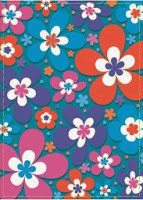 We all know it's fun to receive a special greeting card in the mail. But who has time these days to shop for one and then take it to the post office? SendOutCards is the new way to let you use the ease of sending a card via the internet, but create a real card and have it arrive in the U.S. Mail.
I was offered a chance to try this website for free for this review. My daughter just had a birthday, and I thought it would be perfect if she made a Thank You card to send to a family member as our test. She found this pretty floral design - then we added the wording. It was easy to do and took only a few minutes to complete. The card turned out just the way she wanted. And now has been mailed out to our family through SendOutCards.com.
They make it easy and fun to quickly make a card or note and they take care of shipping it on behalf of the customer. Cost is low, the same as any other card, except for the expense of the paper and envelope!
A fun way to send Holiday Cards too! Might be a good idea for someone like me who tends to wait til the last minute, then find out I don't have enough cards on hand to send. Takes only a little time to find a great design, personalize it with words that are from my own mind/heart, then pay the postage and off it goes!
You can find out more at
SendOutCards.com
Twitter - @MySendOutCards
Facebook -
#/usasendoutcards