Who or what is Blucy you ask? That is a wonderful question . . . Blucy is . . . well . . . a Blue Cat.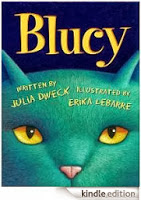 Well she didn't start out blue. A little girl named Mandy goes to the pound to find a new pet. She sees a cat named Lucy and decides to take her home. Mandy sees that as Lucy's mood changes, so does her fur . . to blue. Lucy tries to figure out what is making Lucy Blue.
I won't tell you more, you will need to read this absolutely adorable book for yourself. My children absolutely love Blucy. My 5 year old actually took off with her sister's kindle and hid in her closet to read Blucy over and over. This fun rhyming story has wonderful illustrations on each page that really captured my daughter's attention and imagination. She still talks about Blucy days and even weeks after
reading the story.
Now I have to keep explaining why we can not go out and get her a blue cat like Blucy.
Blucy is FREE today on
Amazon.com
- not sure how long this will last so don't miss a chance to grab this adorable ebook!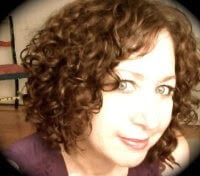 Julia Dweck writes children's stories for digital and traditional publication. Her stories span the spectrum of humor, fantasy, and edutainment in rhyme and in prose. Check out her newest eBook, "Blucy," a colorful romp and rhyming cat tale. Fun cat facts and a Blucy activity are included in this playful adventure.
Julia's background in elementary education affords her the opportunity to be in touch with what children want to read and what makes them giggle. She's collaborated with leading artists in the world of children's literature to produce over 20 Amazon eBooks.
(from amazon's author profile)

Disclosure: I received free the item(s) mentioned in this post in exchange for my honest review. Regardless ~ All my reviews are my honest and personal opinion.
I am disclosing this in accordance with the Federal Trade Commission's 16 CFR, Part 255: "Guides Concerning the Use of Endorsements and Testimonials in Advertising.".