Bringing in Finn
is an incredibly moving story of surrogacy and how it created a bond like no other between a mother and daughter
In February 2011, 61-year-old Kristine Casey delivered the greatest gift of all to her daughter, Sara Connell: Sara's son, Finnean. At that moment, Kristine—the gestational carrier of Sara and her husband Bill's child—became the oldest woman ever to give birth in Chicago.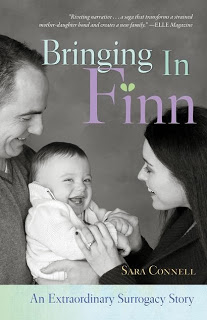 Bringing in Finn: An Extraordinary Surrogacy Story tells this modern family's remarkable surrogacy story.
After trying to conceive naturally without success, Sara and her husband Bill dedicated years to a variety of fertility treatments—but after Sara lost a third pregnancy (including the loss of twins at twenty-two weeks), they started to give up their hope. When Kristine offered to be their surrogate, they were shocked; but Kristine was clear that helping Sara become a mother felt like a calling, something she felt inspired to do.
In this achingly honest memoir, Connell recounts the tragedy and heartbreak of losing pregnancies; the process of opening her heart and mind to the idea of her sixty-one-year-old mother carrying her child for her; and the profound bond that blossomed between mother and daughter as a result of their unique experience together.
Bringing in Finn
is the true story of a couple who wanted nothing more than to have a family and a mother who would do anything for her daughter. After unsuccessfully trying to conceive naturally, years of fertility treatments, miscarriage and a late term loss of twins, Sara and Bill Connell were emotionally and financially depleted and at a loss as to how they could have a family. When Sara's mother Kristine offered to be their surrogate, the three embark on the journey that would culminate in Finnean's miraculous birth and complete a transformation of their at-one-time strained mother-daughter relationship.
My Review:
This is an amazing and unique story that completely captivated me from the very beginning. Knowing several couples over the years who struggled with fertility and pregnancy problems, I was so excited to read Bringing in Finn. This is a story that will bring tears of joy to a reader's eyes while keeping the reader completely intrigued from beginning to end. I could not put this book down.
What a miraculous and wonderful gift Kristine gave to her daughter!
Bringing in Finn is available as a print and e- book at
Amazon
.
AUTHOR BIO & CONTACT INFORMATION:

Disclosure: I received free the item(s) mentioned in this post in exchange for my honest review. Regardless ~ All my reviews are my honest and personal opinion.
I am disclosing this in accordance with the Federal Trade Commission's 16 CFR, Part 255: "Guides Concerning the Use of Endorsements and Testimonials in Advertising.".