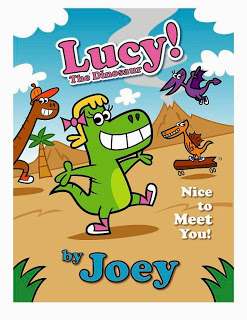 About the Book :
Lucy the Dinosaur is a set of 15 books written by Joey Ahlbum. Moms and dads looking for the best kid's picture book will love Frederator Books' newest read along digital book!
Lucy is an explorer and a leader. She has a natural curiosity about things because Lucy wants to learn. Meet Lucy and her other dino friends as they learn, joke and skateboard!
Lucy is a larger than life dinosaur who loves adventures. With Lucy in the lead, her loyal crew crawls, skates, and dances their way to learning. Lucy's curiosity holds no bounds—she counts, she hunts for treasure, she even puts on a play!
Veteran animator, Joey Ahlbum will charm kids with his friendly and dynamic art. Fans of Dinosaur vs. Bedtime, Sandra Boynton & Mo Willems will love these cheerful read alongs.
My Review :
Lucy the Dinosaur ebooks are sort of cartoons turned into e~boardbooks for toddlers and preschoolers. In each of the adorable ebooks, Lucy and her friends have fun and exciting adventures. The illustrations look like a freeze-frame of an animated cartoon. Each page has a very colorful and fun picture of Lucy or her friends acting out the words of the story. Each story is told simply and is easy for young children to understand and follow along.
These children's books are fun to read and entertaining to look at. I'd personally recommend them for ages 5 and under. My kindergartener really enjoyed listening and watching as I read a few of them to her on my laptop.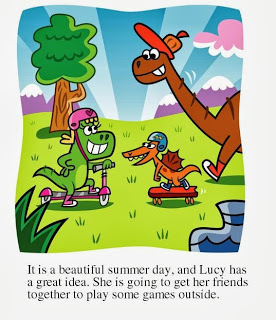 About the Author :
Joey Ahlbum is an animator and illustrator who has worked on classic shows Clifford's Puppy Days and Elmo's World, a Sesame Street production. He has been featured on Nickelodeon, Cartoon Network, MTV, Frederator, and PBS. He lives in Manhattan with his wife and daughter.
Connect & Socialize with Joey!


Disclosure: I received free the item(s) mentioned in this post in exchange for my honest review from the author through Pump Up Your Book tours. Regardless ~ All my reviews are my honest and personal opinion.
I am disclosing this in accordance with the Federal Trade Commission's 16 CFR, Part 255: "Guides Concerning the Use of Endorsements and Testimonials in Advertising.".