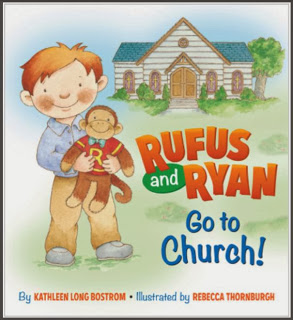 Rufus and Ryan Go To Church!
In Rufus and Ryan Go to Church!, four-year-old Ryan explains to his stuffed monkey, Rufus, what is happening as they attend church on Sunday morning. He lets Rufus know when it's time to sing and to pray and to be quiet.

Author Kathleen Bostrom brings a delightfully light touch to the text as she provides an introduction to an experience that most children are exposed to long before they understand why. And children everywhere will relate to the idea of explaining their surroundings to their favorite companions as they go about their daily activities.

This is just one of the first titles in a new series of inspirational books for preschoolers.


About the Rufus and Ryan book
Rufus and Ryan is a new series of books for preschoolers, featuring Ryan, an energetic little boy, and his
stuffed monkey Rufus. Basic Christian and church concepts serve as the foundation of the series, with an additional focus on character traits and development. The text is presented in young Ryan's voice as he teaches Rufus about the concepts he is learning himself. Each story is about 150 words, using age-appropriate vocabulary and themes.
Also available now, Rufus and Ryan Say Their Prayers
WHO is this book for?
- Children ages 2 to 5 and their parents, grandparents
- These faith-based board books make great gifts during any season: Christmas, Easter, baby
- Gift for your child's Sunday School teacher of children's minister
- Perfect for church nurseries, Sunday school classes, preschools, and church worship settings
About the Author
Kathleen Long Bostrom is a published children's author in both the Christian and trade markets. She has a Master's in Christian Education and a Doctorate of Ministry in Preaching, and she has worked in children's ministry for many years. Kathy and her husband, Greg, have three grown children and live in Illinois.
About the Illustrator
Rebecca Thornburgh began illustrating children's books full-time in 1996 and today has almost 100 books to her name. Rebecca's vibrant watercolors have been showcased in previous Ideals titles, including the new edition of The Story of Christmas. She lives in Philadelphia with her husband and two daughters.

My Review:
This is an absolutely adorable book. Although my children are technically too old for this book, with my youngest being 5 1/2 years old, I wasn't sure what they would think. But both of my girls love the story, the cute little monkey Rufus and enjoyed reading this book with each other over and over.
I know my sister in laws would both love to have this story for their little ones - it will be hard for me to pick only one of them to pass this book on to!
Ryan learns what happens when his family attends church and as he is learning, he is telling his stuffed monkey friend, Rufus, what he is learning about how to behave in Church.
This is a wonderful read for families that attend regular worship services and would like to reinforce the "good behavior" to younger children in a fun and entertaining way. Plus it is just so cute!
Would you like to check it out for yourself?
~ How about winning a FREE copy?
Well, what are you waiting for!
Here is another FUN Giveaway on Mom Loves 2 Read
~ open to US & Canada!
Must have a valid mailing address in order to win
- void where prohibited by law!

Disclosure: I received free the item(s) mentioned in this post in exchange for my honest review through FlyBy Promotions. Regardless ~ All my reviews are my honest and personal opinion.
I am disclosing this in accordance with the Federal Trade Commission's 16 CFR, Part 255: "Guides Concerning the Use of Endorsements and Testimonials in Advertising.".