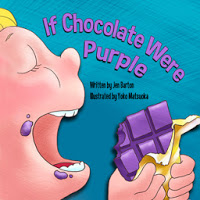 In a world where chocolate is purple, where roller skates grow on trees and all kinds of things turn topsy turvy, one thing your little one can count on is your love.
Full of delightful rhymes and whimsical imagery this fun bedtime story will warm hearts and ignite imaginations.
My Review
:
If Chocolate Were Purple
is a fanciful and imaginative story for children that stretches each child's imagination in a delightfully silly way. With amazing illustrations that bring each page to life, this story is one that will be read over and over and over by more than just the little ones.
I personally think this is an adorable book. My kids and I love
If Chocolate Were Purple
. Such and wonderfully fun story that adds that extra sparkle to my little one's eyes every time we read it together. My youngest is 5 and she nearly has the whole fun story memorized already. This is one of her new favorites and I keep finding it in my car, the living room, under her covers when she is supposed to be sleeping and all over where she had last been "reading" it.
I have read and reviewed for author Jen Barton before, and she once again has found a book that has found a permanent place in my home. This is an adorably silly and fun book that children of all ages will enjoy, it not only encourages children to use their imaginations but does it in a unique and fun way - another highly recommended read!
You can read my review of another of
Jen Barton's books here
.
About the author
:
Jen Barton was born in Williamsport, Pennsylvania in 1971 and spent much of her life on the East Coast. In 2008, at age 36, she and her family moved to California. With two cars, she and her husband moved two dogs, two guinea pigs, a cornsnake and their 10-year old daughter across the country. She counts the five day road trip, including a near escape by both dogs on Day 3, as one of her best experiences to date. In 2009, with a Bachelor of Arts in English and Philosophy from Millersville University, Barton realized her childhood dream to become a writer. One van full of bored kids, one long day of travel, and Fiona Thorn was born. She's been writing ever since. When not taxiing her teenage daughter hither and yon, Barton loves reading (especially fantasy by George R. R. Martin), cooking (anything with pasta is a hit), and writing (magical worlds with obstinate teen girls is always a favorite).

Socialize with Jen :
Goodreads ~ http://www.goodreads.com/author/show/6543278.Jen_Barton
Facebook ~ https://www.facebook.com/JenBartonWrites
Website ~ http://www.jbartonbooks.com/
Click here to purchase a copy of this book on Amazon.com

Disclosure: I received free the item(s) mentioned in this post in exchange for my honest review from the author. Regardless ~ All my reviews are my honest and personal opinion.
I am disclosing this in accordance with the Federal Trade Commission's 16 CFR, Part 255: "Guides Concerning the Use of Endorsements and Testimonials in Advertising.".