I love good food - then again, most people I know enjoy eating as much as I do. But as most people like myself, there are certain foods that I love to eat more than others. . . and those that are fun and fanciful as well as yummy and filling top the list of foods I love.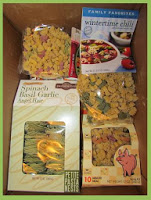 When I found The Pasta Shoppe website and started browsing the fun and fanciful pastas, I was hooked. But, how do they taste? Will they hold up to my family's high standards of taste and enjoyment?
Hmm, well, the best way to find out is a real, live taste test. So, of course I contacted them to find out if I could get a few products for review. They were nice enough to send me a selection that catered to my family . .
. something for each one of us (except Daisy . . . she's not allowed to eat people food, poor doggie).

We have the Spinach Basil Garlic Angel hair pasta nests for sophisticated adult tastes, then the fun and fantastic Cheesy Farm Pasta mix, Holiday specials: Snowman Pasta, Reindeer Noodle Soup mix and Wintertime Chilli mix. For the Illinois Fans, some Illinois fan pasta mix, and some kid friendly favorites: Zoo Animals and Peace, Love & Happiness shaped pasta.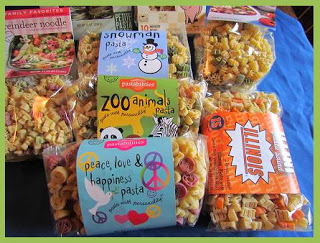 So, what to make first? Something for the kiddos of course - a favorite, Cheesy Peace Sign pasta!
Yep, those are Peace Signs, Hearts and Doves in pasta form! My girls both Love this one!
Even my 12 year old said it was yummy, though he would prefer baseball shapes to Peace signs!
Then, something fun for Mom to eat for lunch while the kiddos are at school . . .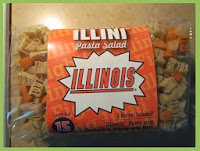 my favorite Italian Ranch Cold Pasta Salad using the Illinois Fan Pasta . . . personal recipe:
A dash or three of italian salad dressing, way more dashes of my favorite Ranch dressing
Black olives, Fresh Garden grown grape tomatoes, some green olives thrown in for color and contrast
and flavor goodness . . . refrigerate for a couple hours to cool.
then eat and enjoy!
(for those who like onions and peppers - those make great adds too)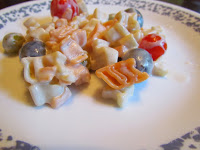 And finally, since this post is already long - one last yummy review . . .
for the adults - some delicious Spinach Basil Garlic Angel hair pasta nests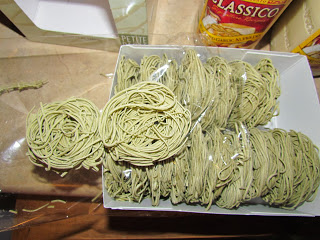 Served with Alfredo sauce with spices on top to add some color and flavor . . . my husband's favorite of all the pastas. He travels quite a bit for work and has eaten at some amazing restaurants. He said this was as good as some of those restaraunt pastas and he'd love to have this again and again!
I have to agree. I enjoyed every pasta we tried, and we've eaten nearly all of them already, but this one is my personal favorite as well.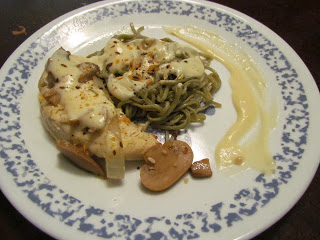 Now, as if that isn't enough of a reason to go buy some fun pasta, how about the fundraising opportunities offered as well? Oh, yes! You or your group can raise money for your troop, group or event through The Pasta Shoppe's fundraising program . . .
www.funpastafundraising.com
A great way to share your love of pasta with friends, neighbors and family and raise money for your organization too!
With a variety of options, there is something for nearly anyone at The Pasta Shoppe ~ Seasonal Pastas, Gluten-free, college teams, pasta nests, meringues, gift sets and more . . .

Disclosure: I received free the item(s) mentioned in this post in exchange for my honest review through the sponsor mentioned in the post. Regardless ~ All my reviews are my honest and personal opinion.
I am disclosing this in accordance with the Federal Trade Commission's 16 CFR, Part 255: "Guides Concerning the Use of Endorsements and Testimonials in Advertising.".