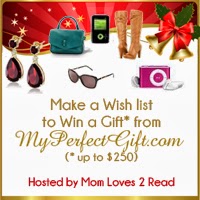 Sponsored by MyPerfectGift.com
~ first prize is an item from winner's wishlist up to $250 value (or Paypal/Amazon if winner lives outside US)
`second prize is item from the winner's registry/wishlist up to $25 from their "FAVORITES" section - so must have some favorites to be eligible.
Blogger Incentive Prize ~ $50 Paypal/Amazon (will be determined through a separate giveaway form)

Only taking first 25 bloggers - max 2 cohosts - FREE twitter link with sign up - additional links $2
INTERESTED? CLICK HERE TO SIGN UP!
*any blogger who pays $10 or more to join this one HGG giveaway, will get 2 complimentary links in at least 2 of my holiday gift guide giveaways during the month of Nov through early Dec!