Disclosure: I got this product as part of an advertorial.
It's Easy. Assignments, due dates and after-school activities can be seen at a glance.
It's Functional. Homework and studying are easily scheduled during "available" times.
It Puts the Student in Control. Students can plan time for schoolwork around after-school activities OR without leaving things until the last minute.
My Review
:
My 12 year old son used to have a hard time keeping track of his homework assignments. For the past couple years, he has used an Academic Planner to keep his assignments organized so he knows what books and papers to bring home each day. I liked the idea so much that I started using a planner for my blog reviews as well, but the one I have been using didn't really meet my needs.
The Academic Planner from Order out of Cahos has helped me turned things around! Unlike other planners, the Academic Planner has space at the bottom of every page for listing after-school activities, blog deadlines, family activities, weekend commitments or just for extra notes to keep organized.
Now I can easily keep my blog organized and still add in my kids' activity times so I don't get caught online at a time when the kids need to be somewhere important. I can keep my review deadlines in order, and add special notes as to which are high priority, which are reviews, reviews with giveaways, social media promotions and so much more. I've even started scheduling in exercise time and time for reading those all-important books! I'm pretty impressed with this new Academic Planner and plan to continue using it through all of next year!
This Planner would also make a good Home school Teacher or Student Planner to help keep track of daily time slots, class times, activities and more.
More about the Planner from the Website:
ACADEMIC PLANNER SPECIAL FEATURES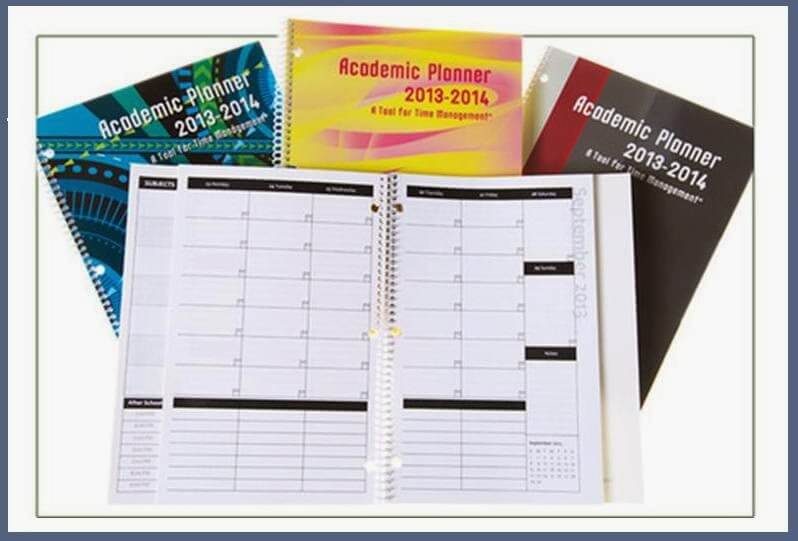 An index page at the beginning enables students to record their class subjects once. The actual weekly planner pages then line up on a subject-by-subject basis. This system maintains continuity and creates an easy, natural method for students to look at each week and quickly see assignments and due dates they have for each of their classes.
The planner allocates space for after-school activities and weekend commitments. Coupled with the grid system for entering information, the recording of this information is essential for providing accurate visual cues of available time in order to complete assignments and prepare for tests. Each open page quickly reveals blocks of time when the student has scheduled activities and when they are free. This facilitates weekly time management and planning strategies.
Seeing open blocks of time helps students break down multi-step and long-term projects into manageable parts. It also enables students to plan their weekly workload and to feel more in control of their schedule and their time.
Ample, larger format pages

to allow for more room to write assignments and appointments! The overall size of the planner is 8 1/2 x 11" and the interior pages are an ample 7 x 11".
Flexible plastic coil binding and more durably constructed covers

Disclosure: I received free the item(s) mentioned in this post in exchange for my honest review using Tomoson.com. Regardless ~ All my reviews are my honest and personal opinion.
I am disclosing this in accordance with the Federal Trade Commission's 16 CFR, Part 255: "Guides Concerning the Use of Endorsements and Testimonials in Advertising.".