Disclosure: I got this product as part of an advertorial.
For this review I received a small Trial size package with 9 capsules inside, typically will last the average person 3-4 days.
About the Product: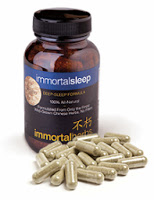 Wake up refreshed and ready for the day! Be reminded of how great it feels to get an uninterrupted good night's sleep. For people who have:
difficulty falling asleep
,
poor quality sleep
,
irritability
,
agitation, fatigue,
and
lack of focus.
This safe and effective, non habit forming formula has no side effects and no next day drowsiness.
If you have trouble with sleep and want to avoid the side effects of other sleeping pills, taking Immortal Herbs' specially developed herbal sleep formulation will help you to regain
the balance needed to ensure a deep peaceful slumber. Deep quality sleep is essential for your health and well being and allows your body to restore and renew. This herbal remedy is extremely safe and will allow deep relaxation and calm.
My Review
:
I have trouble sleeping and occasionally have to use a prescription to aid in relaxing my mind so my body can get the rest it needs - I have tried several over the counter and herbal sleep aids with little to no success. I thought when I agreed to review this product that it sounded better than many of the sleep aids I have previously tried and could not wait to see the results. Unfortunately I did not like this product.
First, I have to take up to 3 large capsules for a single dose. Even though I can usually swallow pills without a problem, I did not care for how many I had to try to get down for a restful night's sleep.
Second, after trying it for two nights and not noticing any difference I was quite frustrated. My main problem is getting to sleep quickly - I can stay awake for hours even when exhausted due to my brain just not wanting to quit thinking! Immortal Sleep did nothing to help my particular issue.
Third, whatever herbs are inside the capsules do not taste very good if not swallowed quickly with lots of water. One got stuck in my mouth and the taste was not pleasant.
Immortal Sleep is not a product I personally found to work to help me sleep so I cannot honestly encourage others to try it.

Disclosure: I received free the item(s) mentioned in this post in exchange for my honest review using Tomoson.com. Regardless ~ All my reviews are my honest and personal opinion.
I am disclosing this in accordance with the Federal Trade Commission's 16 CFR, Part 255: "Guides Concerning the Use of Endorsements and Testimonials in Advertising.".