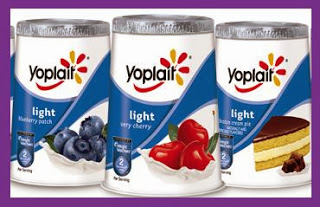 I was offered the chance to join a challenge along with other bloggers, parents and kids. The challenge was to swap out one of my kiddos' snacks each week for 4 weeks with
yoplait yogurts
instead and see what their reaction was.
My oldest fought it at first, but when I purchased some of his favorite flavors he was more than happy to swap more than one snack a week for yoplait - he loves the boston cream pie, key lime pie and strawberry shortcake Yoplait Light flavors best. He had no problem adding those to his approved snacks each week.
My girls both like yogurt, my 9 year old likes it better than my 5 year old though. My 9 Year old would eat Yoplait yogurt every day if I would let her but I like to give her a selection of healthy snack choices and encourage variety - week 2 she had yogurt 3 out of 5 snack days! She loves the strawberry, blueberry, strawberry shortcake and key lime pie flavors best.
Overall I'd say this was a very successful challenge for my kids!
Looking for a healthier choice for after school snacks or to add to their lunchbox meals? Try swapping out yoplait yogurts and see what reaction you get!

Disclosure: I received free the item(s) mentioned in this post in exchange for my honest review. Regardless ~ All my reviews are my honest and personal opinion.
I am disclosing this in accordance with the Federal Trade Commission's 16 CFR, Part 255: "Guides Concerning the Use of Endorsements and Testimonials in Advertising.".