What is something that you could surprise your children with this Christmas? How about a book, ebook, lunchbox or placemat personalized just for him or her?
A book or ebook all about your child ~ with family members, friends and favorites all through the story. A personalized book just for your child about your child.
For younger children, start with My Very Own Name - an educational book that teaches young children how to recognize the letters that spell their name - and they can color it too! Just like this one I had done for my little 3 year old niece - her name is VIOLET - so the whole story is about her, with her name spelled out - a different letter on each page, and a fun rhyme and adorable animals that go
along with each letter. What a fun and unique way to learn the letters to spell her name - AND animals and objects that start with each of those letters!
More about these personalized coloring books:
Your child will love to color the animals that bring letters one by one to spell out his or her first name, in this highly personalized coloring and activity book. The moose brings the M, the elephant brings the E, and so on. This fun-filled, educational coloring book helps your child learn to recognize letters and spell his or her first name, and it includes personalized games and mazes to enrich the coloring experience.

As an added personal touch, this high quality coloring book includes a printed dedication from the sender. It has a soft cover with premium white paper that provides great results with crayons, watercolors, pastels and pencils. Made in the USA and written by Maia Haag.

Next, you could choose a personalized lunch box for your school age children - like this one I had done for my youngest Lydia - She felt left out since her older siblings attend school all day and often take their lunches in their own lunch boxes - so for Lydia - she has one just for her alone -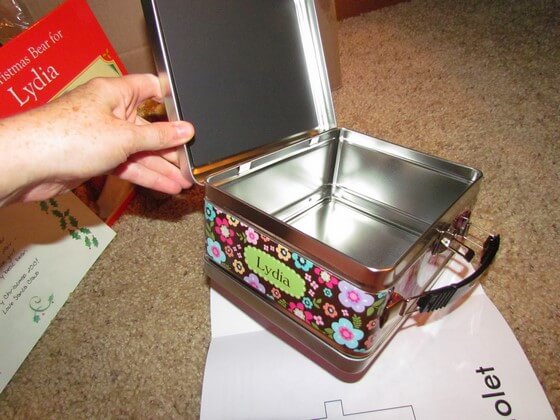 It is so cute with Butterflies and flowers all over and her name on every side - to top it all off, there is a magnetic chalkboard inside the top that is perfect for adding notes, reminders or a fun message from Mom or Dad! What a fun surprise to find a fun note when she has her lunch break during the school day next year!
More about these lunchboxes:
Our personalized lunch boxes make your child feel special every day! Each one of our lunch boxes features your child's name on multiple sides. On the inside lid, there's a chalkboard where you can write a personalized note to your child each morning!

Safe for storing food, our lunch boxes are made of tin and contain no lead. They're also great for storing toys and other treasures!


With so many books, puzzles, and gifts to choose from - it is hard to purchase just one! AND, if you sign up for the
ISeeMe.com
Newsletter - you can get 10% off your purchase!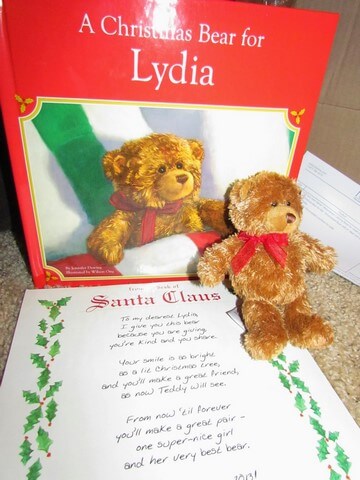 Finally - can't forget the coming Christmas Gift for my youngest - I could not get a photo of her with it since it will be for her for Christmas but you get a sneak peek of what Santa has sent her this year -
Santa himself sent her a personalized book about an adorable Christmas Bear - with the adorable bear to play with an a letter from Santa too! Written just for her by Santa himself - what young child wouldn't love having Santa leave her a letter, a personalized book and adorable bear under the tree. I can't wait to see the joy on her face when she sees that Santa left her a letter! And inside this story - all the Stockings hanging by the fire have the names of our family members (even our precious dog)! Such a cute idea - I love it!
More about A Christmas Bear for Me Gift Set:
A Christmas Bear for Me is a beautiful, heart-warming, personalized story about a child's Christmas wish for a special Teddy Bear friend. A Christmas Bear for Me captures the anticipation leading up to Christmas morning and the magic of receiving a special gift from Santa.
One child is the "star" of the Christmas book and his or her name is featured throughout story
The child's name and the names of his or her siblings or relatives are incorporated into intricate illustrations of stockings across the mantle and more
Includes a cuddly, mini 6" Gund plush bear and personalized letter to the child from Santa!
Now, what a wonderful time I had reviewing these fun personalized items from I See Me! I have a wishlist already started for more great personalized gifts in the coming year for little ones' birthdays and holidays!
There are puzzles, board books, coloring books, story books, placemats, lunch boxes and much more - all can be personalized just for the person on your gift list! Need more Holiday Ideas? Check out their
Holiday Gift Guide
as well!
Now that you've read through and know my opinion - how about a chance to try it out for yourself?
With a GIVEAWAY of course!
I See Me is offering my readers a chance to win . . .
Giveaway will run from Dec 6 - Dec 14
Winner will be chosen on Dec 15, and will Only have 24 hours to reply to claim this prize
Email will be sent from MomLoves2Read@itv-3.com - please make sure to check your spam or come back here to find the winner! No reply after 24 hours will require me to choose another winner!
Open to US only - Must be 18 or older!

Disclosure: I received free the item(s) mentioned in this post in exchange for my honest review. Regardless ~ All my reviews are my honest and personal opinion.
I am disclosing this in accordance with the Federal Trade Commission's 16 CFR, Part 255: "Guides Concerning the Use of Endorsements and Testimonials in Advertising.".