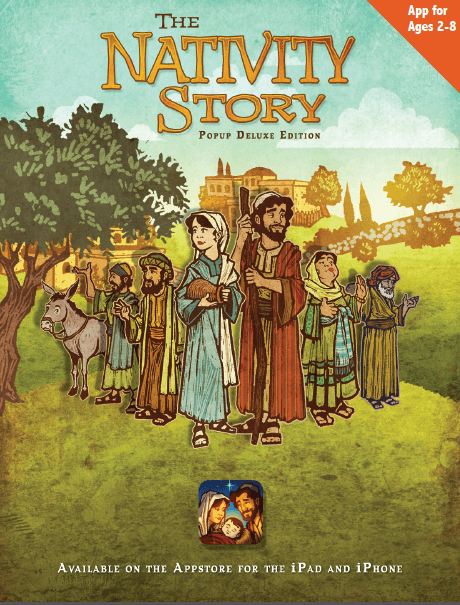 The Nativity Story App
Where will the Baby Jesus be born? At the Market? At a restaurant? At the Inn?
Readers of this book app can follow Joseph and Mary on their search for a place to stay in Bethlehem.
Along the way they encounter a variety of colorful local people and animals.
It's like a vintage pop-up book, with classic woodcut-style illustrations

By tapping and swiping, kids can help Joseph and Mary find a place to stay.

Knock on doors... Pull on the rope... Ring the bell... Open windows... Make people talk...

Create music! Help a band of angels play their instruments.

Lots of characters to get to know: Innkeeper, Merchant, Shepherds, Chef, A Band of Actors, Neighbourhood Children, Mary's Donkey, Farm Animals and of course... Angels!

Funny sound effects!
Why Parents & Grandparents Love This App
Nostalgia. It feels like a classic pop-up book, bringing back memories for parents and grandparents.

Optional Narration: Listen to the old-timey narrator tell the story, or read the story yourself.

EXTRA Feature: After the story, explore the original Bible text that tells the Nativity Story.

Amazing Visual Quality: Support for retina display
How is This Christmas App Different?
Production Values - It is a work of art: a rich visual and sound experience.

Interactive - We use the touch technology and animation to engage the reader in the story in an enchanting and educational way.

Age approach - The classic Bible story is retold here with an original and creative approach that appeals to young kids as well as adults.

Original - The app is designed like a vintage popup book and includes unique features such as interacting with a band of angels and playing instruments like trumpet and harp.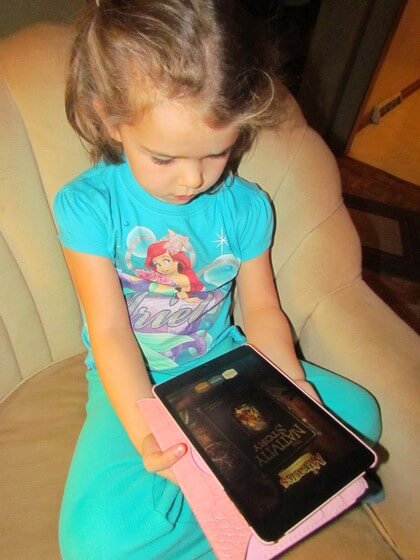 Our Review: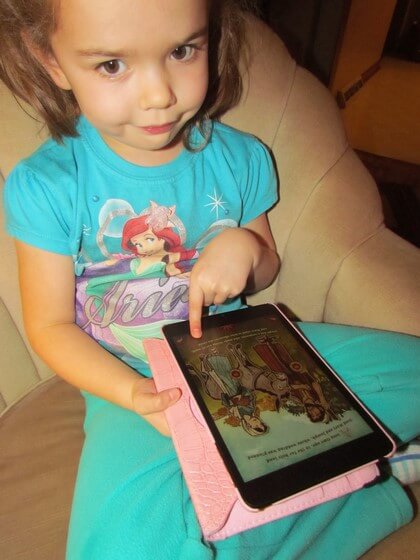 This is a fun interactive app for kids to show the Nativity Story and help them see what Christmas is all about. Children can follow along in the story as Mary & Joseph travel by donkey to find a place to stay so Mary can have her baby. When all the rooms are full, what are they going to do?
Although the interactive app is fun for kids of all ages, it is not biblically correct, so as long as parents or grandparents don't expect the story to be told as the Scriptures tell it, this is a fun app for kids. My youngest loves moving the donkey around on the page, nodding it's head, opening doors and windows and hearing the conversations of the people on each "page" of the "book." The fun interactions are great for children to help keep their attention and show how fun it can be to read books even ebooks.
I love that there are two choices - read it yourself - or "read to me" for children who can not yet read it themselves. Such a great app for this Holiday Season.
And Lydia says "I love this story, it is so much fun and the donkey moves all around. It's great for kids like me."
Currently this app is priced at:
For the iPad ($3.99)
For the iPhone ($1.99)

Disclosure: I received free the item(s) mentioned in this post in exchange for my honest review. Regardless ~ All my reviews are my honest and personal opinion.
I am disclosing this in accordance with the Federal Trade Commission's 16 CFR, Part 255: "Guides Concerning the Use of Endorsements and Testimonials in Advertising.".