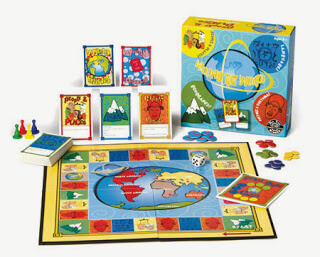 Free Shipping!

(USA)
Fun Games For Global Education
Curious about getting better connected to people of the world? Now you can! Around the World is a company that travels around the world and develops interactive products that bring the global experience to you. Their mission is to offer resources that get people of all ages better connected to the world around them. Their products meet the needs of many a diversified market, including classrooms, diversity and literacy programs, cafes, universities, museums, as well as businesses looking for other ways of understanding cultural diversity among their global markets.
Their fun games are about spreading global education and connecting people in this diverse world. The award-winning Around the World Board Game takes players on a travel adventure while
educating them about people, places, language, culture, customs, world wonders, and world geography. The Trivia Collector Card Packs are designed to be played along with our board game or on their own. The card packs include over 200 fun, trivia questions on every region of the world!
My children and I all love to play all kinds of games. We have an entire upstairs closet that has nothing but family board, card games and puzzles. So, being offered the chance to review a family game is one that is perfect for us.
I love to find games that the whole family can play, so although my youngest is too young for nearly all the questions in this game, we still include her by having her help move the game pieces, hand the cards to other players and help give answers and hints so she can be included too.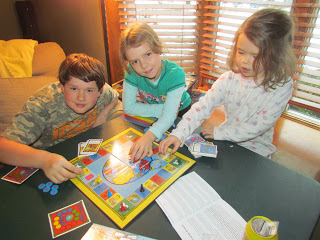 As a Stay At Home Mom of Three busy and active kiddos in 3 different grades/learning stages, it is always great to find games that mix fun with education so that they can learn as they play. The Around the World board game helps make learning about geography, international cultures, language and the people and places in this world full of fun. My kids do enjoy playing this game, but soon get frustrated with the difficulty of some of the questions. My 12 year old son seems to know quite a bit more about geography and cultures, whereas my 9 year old is still learning - and of course my 5 year old doesn't know a whole lot yet, but is eager to play along anyway.
Around the World is a game with 200 educational trivia cards based on the themes of People and Places, Geography and Language, and Culture and Customs that helps the players "travel" all over the world to learn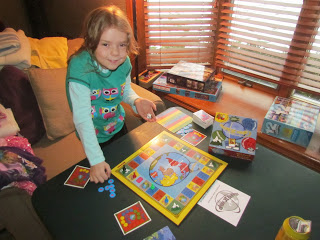 new and exciting things about different countries and cultures that they otherwise would not have a chance to visit.
Most of the questions are even too hard for this Mom, but the hints many times make guessing fun and easier. And of course many times I add a few extra hints for when the kids area struggling to figure it out. Overall the game is fun and educational and we all seem to remember different questions and answers from the game days later.
Around the World Games would make a great Christmas Gift for a family with children who are eager to learn while having fun playing too!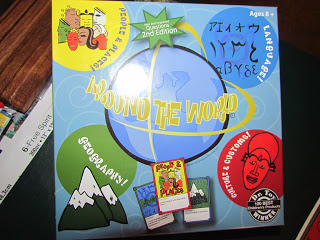 And, there are additional country and continent packs that can be purchased in addition to the main game set - check it out at
http://www.aroundtheworldgames.com/

Disclosure: I received free the item(s) mentioned in this post in exchange for my honest review. Regardless ~ All my reviews are my honest and personal opinion.
I am disclosing this in accordance with the Federal Trade Commission's 16 CFR, Part 255: "Guides Concerning the Use of Endorsements and Testimonials in Advertising.".