I'd like to introduce you to my friend Kim over at O' What A Bow. She is a stay at home mom to 2 adorable kiddos and started making hair bows for her daughter's collection. Then she realized that she really enjoyed making them. You can find her hair bow designs on her Etsy Store - https://www.etsy.com/shop/Owhatabow And on Facebook - https://www.facebook.com/OWhatABow
She is frequently adding new and amazing looking bows to her inventory. She accepts special orders and ships 6 days a week. All her bows come with the option of an alligator clip or barrette.
Kim was kind enough to send me some of her fabulous bows for review and has even
offered a Giveaway just for the wonderful followers here on Mom Loves 2 Read!
I must confess that I had a very hard time trying to choose which ones I would want. She has so many different designs and styles that I got a bit overwhelmed, so I had to start making a list of all the ones I liked. When that didn't work - as the list was still very very long, I just decided to go with mostly Holiday bows for my girls to wear for their Christmas Programs and for Church, School and Outings this Holiday Season, with a couple non-Holiday bows as well so I could show a nice variety here for this review.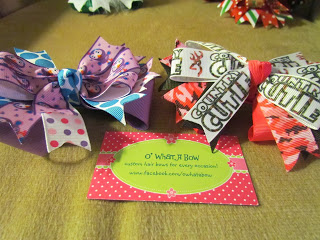 With Christmas less than 2 weeks away, and on my mind of course, I chose to start with bows that would coordinate with both of my girls' Christmas outfits. Reds, Greens and fun for both girls to wear for the whole season. One with Adorable Reindeer (with a cute little red nose) - and one that says "I <3 p="" santa=""> 3>
Then, I could not find a bow that I thought would match my older daughter's dress for her Christmas Program - so I sent Kim a photo asking if she could help me figure out which bow would match best - instead of showing me what she had in her current selection - she made this perfect custom bow to match . . .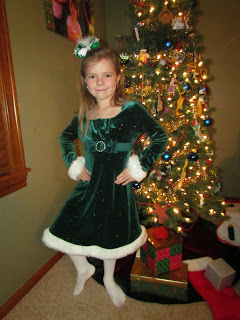 My daughter was absolutely Thrilled - she could not believe how perfect the bow looks with her Christmas Dress! What do you think?
Then, since we love having pretties in our hair - I had to choose some that did not have a Christmas Theme for the girls to wear all year long . . I fell in love with these adorable purple owls - and my youngest has a shirt that matches perfectly! She just had to wear it to school to show off to her friends!
And finally - what Deer loving family would be complete without a cammo bow for those wanna-be hunters to wear? My darling divas both wanted to wear this one at the same time - had to make sure that they know how to take turns choosing - at least until I can purchase some more from Kim!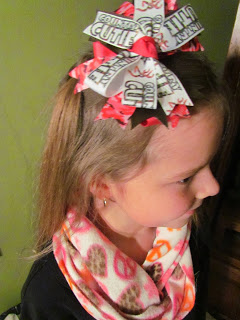 So now my girls are more than ready to rock their outfits this holiday season! What do you think of their Hair Pretties from O' What a Bow?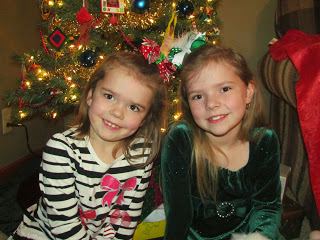 And what more fun could I possibly share with you? How about a chance to win 4 bows of your own from O' What A Bow?
Enter below for a chance to win a set of 4 bows of choice from O' What a Bow's current selection! Open to US residents 18 and older. Giveaway runs from 12/16 through 12/31!

Disclosure: I received free the item(s) mentioned in this post in exchange for my honest review. Regardless ~ All my reviews are my honest and personal opinion.
I am disclosing this in accordance with the Federal Trade Commission's 16 CFR, Part 255: "Guides Concerning the Use of Endorsements and Testimonials in Advertising.".