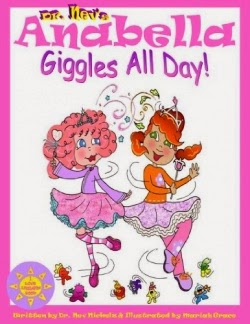 "Anabella Giggles All Day! is a wonderful book about feelings, friendship, and giggling. Written in easy-to-read rhyme, it is the perfect book for young readers ages 3 to 7.
Anabella loves giggling, but when Anabella starts giggling at her bossy best friend, their friendship is challenged. Because her feelings are hurt, Anabella's best friend becomes angry and commands Anabella not to laugh again. What will Anabella do? Can she stop giggling at her best friend? Can they
still be best friends? Ultimately, shared all-day giggles lead to the triumph of friendship.
Children will learn valuable lessons as they enjoy stunning illustrations, surprising twists, and super fun in Anabella Giggles All Day!, an exciting addition to the I Love Anabella series. 40 pages."
My Review:
I always try to promote the positive aspects of any book or product that I review. And for the positive of Anabella Giggles All Day, I can say that there is an underlying message that it is not nice to make fun of your friends that is a great moral for young children to learn.
Other than that, I really did not care for this book. I found that it did not flow or rhyme well, the main focus of the story is about a little girl who laughs at her best friend for silly reasons which hurts and angers her friend. Anabella seems like a mean little girl who can't stop laughing at dumb things and making her friend no longer want to be around her. I don't like teasing or bullying and that is what it seemed that Anabella was doing throughout the whole story.
The two "friends" soon fight about Anabella's giggling, and then magically are friends again even though Anabella never apologizes for her mean actions.
The story itself does not make much sense - the rhymes really don't rhyme and there are words that make no sense to me - like a "Keddy Teddy" and something called "Rhompees" - I have no idea what they are and no explanation is given anywhere in the story.
I did not read this to my children and really would not recommend this to other parents either. Sorry, but I feel this book need quite a bit more work to make it one that would be fun to read by parents and children.
I must say this is the most disappointing review I've had to write for a very long time.
If you are still interested in purchasing this ebook - it can be found for
$2.99 on Amazon

Disclosure: I received free the item(s) mentioned in this post in exchange for my honest review using Tomoson.com. Regardless ~ All my reviews are my honest and personal opinion.
I am disclosing this in accordance with the Federal Trade Commission's 16 CFR, Part 255: "Guides Concerning the Use of Endorsements and Testimonials in Advertising.".