Disclosure: I got this product as part of an advertorial.
Piczzle Picture Puzzle service is an online store that provides Custom Made Jigsaw Photo Puzzles.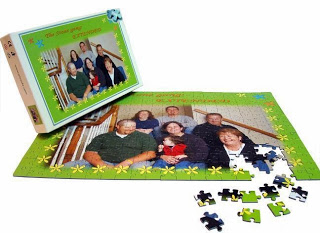 They provide some of the best custom jigsaw puzzles I've personally found by allowing the customer to create a fun, dynamic and an interactive option to capture precious life's moments through a photo puzzle game – for themselves and for the ones they love.
Piczzle's Cardboard Puzzles are made of quality materials and craftsmanship. The print quality is amazing.
These Piczzle Picture Puzzles are
constructed of a premium grade cardboard that has been laminated with a glossy finish and are printed using an advanced digital printing technique that results in sharp, multicolored prints.
My Review:
When I was offered the chance to review a Piczzle Puzzle - I knew immediately which photo I wanted to use. My family had a photo session this past spring, and the picture of my three kids together is one I absolutely love. To have it immortalized in puzzle form sounded like the perfect way to have my kids enjoy putting puzzles together. How much fun is it to put your own face together in a puzzle?
I decided to try out taking a video of my youngest putting this puzzle together step by step to see how it would turn out. What do you think?
Step One - get all the puzzle pieces out and start putting together the frame . . .
Step Two - finish the frame and start on the inside
Step Three - finish the puzzle and don't forget to finish your brother's and sister's faces too!
My youngest and I have put this puzzle together several times, and recently when Grandma and Grandpa were over to babysit - the first thing she did was grab this puzzle and ask Grandma to help her put it together. She says this is her Favorite Puzzle! Piczzle Puzzles are great for families, kids, grandparents, bridal gifts, baby shower gifts and so much more! Such fun - check them out.
Visit Piczzle Picture Puzzles Website:
www.piczzle.com
Visit Piczzle photo puzzles on Facebook:
www.facebook.com/piczzle
Visit Piczzle photo puzzles on Youtube:
www.youtube.com/user/PiczzlePuzzles
Now for the Giveaway - A Reader of Mom Loves 2 Read will win one Small Cardboard Piczzle Puzzle
To be eligible:
*Must not have won a Piczzle Photo Puzzle on any other blog in the past 6 months
*Must not have won a prize on Mom Loves 2 Read within the past 30 days
*Must be 13 or older with parent permission to enter/win
*Open World Wide -