Some of you know
Little Pim
. They're a foreign language learning company that introduces children between the ages of 0 and 5 to a foreign language using DVDs, music CDs, flashcards, and books.

Little Pim was designed around the latest scientific research regarding language acquisition and brain development. The method combines the work of leading neuroscientist Dr. April Benasich, and Julia's own experience as a language teacher, filmmaker and mother.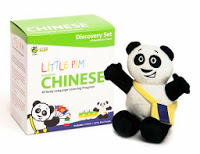 Children get very attached to the lovable cartoon panda bear, Little Pim, who is the series "teacher." He invites young viewers to join him in his playful antics as they learn the language along with real children enjoying
everyday activities
, such as playing, eating, waking and napping.
The entire video series is spoken by
native speakers
, and words are presented and repeated at regular intervals. Each Little Pim DVD focuses on sixty words and phrases typically acquired in a toddler's primary language, providing the essential building blocks for language acquisition.
Little Pim is designed and paced for developing minds.
Young children respond enthusiastically to Little Pim's format, a combination of animation and live action. Babies respond to black and white, and therefore the panda captures the attention of even the youngest viewers. Each video deals with a theme relevant to young kids, and is segmented into 5-minute episodes to accommodate a young child's attention span and encourage pausing for parent interaction. Simple sentences are broken down into easy-to-understand parts, and reinforced through repetition.
My Review
:
For this review I chose the Spanish DVD from Little Pim. We have previously
reviewed the Japanese DVD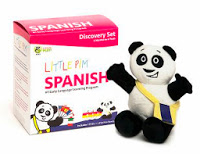 and my two girls have already learned quite a bit from it. My older daughter took notes, memorized some words and was able to impress her best friend over the summer when they visited from Japan.
Now, we decided to check out the Spanish DVD so I could brush up on my High School Spanish - It has been more years than I care to admit since I took Spanish in High School but I still remember some.
I had the opportunity recently to try to understand and converse with someone who speaks mostly Spanish with a little English - It was easier since I have been watching the Spanish DVD with my youngest from Little Pim.
The DVD is cute, and the panda is adorable and I love the Option of adding Subtitles (so I can cheat when necessary - lol) The complete Immersion method makes it so that the child (and parent) watching the DVD hear the same word or phrase repeated over and over in the language they are trying to learn - it helps when I encourage my daughter to repeat the words or phrases with the Panda on the screen.
If you want to have your child learn a second language, and are willing to start them young - then Little Pim does have great quality products to assist with that.
To Learn More About Little Pim:
Now for the Holiday Gift Guide 2013 GIVEAWAY!
One reader here on Mom Loves 2 Read Will win a Little Pim Language Learning DVD in the language of his/her choice!
Open to US only - ages 18 and older!
Giveaway will run from Dec 7th through Dec 16
Winner will have 48 hours to reply to winning email to claim this prize.

Disclosure: I received free the item(s) mentioned in this post in exchange for my honest review. Regardless ~ All my reviews are my honest and personal opinion.
I am disclosing this in accordance with the Federal Trade Commission's 16 CFR, Part 255: "Guides Concerning the Use of Endorsements and Testimonials in Advertising.".