I was offered a chance to review some toy items from EverBuying.com An Online retail shop that carries thousands of electronics, toys, games and gifts that are priced very inexpensive and ready to ship as soon as the buyer places the order.
I chose some items I thought would be fun for my kids to help review - each and every item was under $16 - with 2 of them being under $7! What a deal - now, are they worth the price? This is what we determined:
Please be kind - lol These pictures were taken when our power was out due to the Tornado that went through just a few miles from our home - so they are not the best pictures -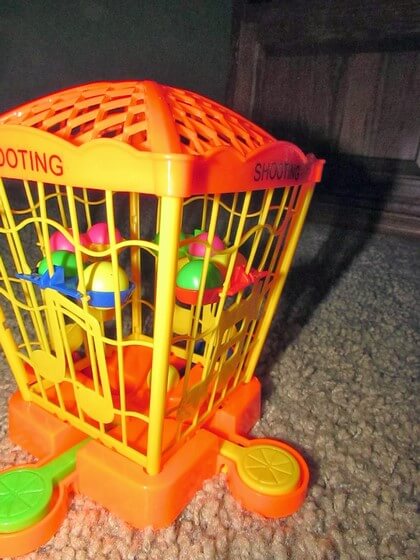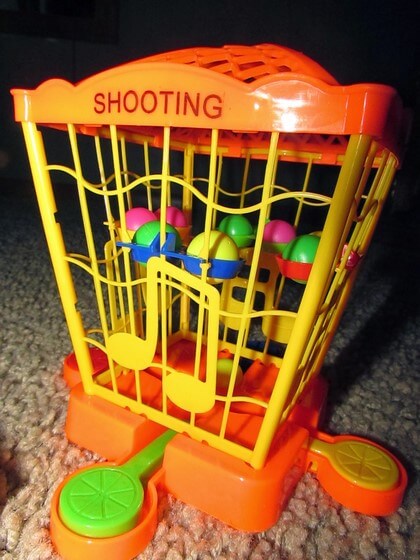 The first of the items I chose was this fun looking
Shooting Game
- It is made from thin plastic and when I first opened it, I did not expect it to last - I honestly thought it would break the first time we played with it. But I was pleasantly surprised to find that not only does it hold up but is a very fun, yet simple game to play.
We enjoy this game so much that we took it with us to our family get-together over Thanksgiving and my young nieces (ages 3 and 20 most) both loved trying to get the balls into the hoops - this was a pleasant surprise and very inexpensive - at only $6.76.

Next comes the "
Microscope Set
" that I choose - it says ages 8 and up. I expected with the inexpensive price that it would not be high quality but did expect it to be worth trying out. I was wrong. Although the microscope does move up and down, and has a mirror that can be used to reflect light to see - the rest of it is completely fake - the "tools" are all plastic fake tools and cannot be used at all, the slides and covers though the instructions show how to use them, do not work properly - this is made for a very young child to pretend with - it would be perfect for say a 5 year old who wants to pretend to be a scientist, but is not for an 8 or older child who really wants to learn how to use a microscope - a great deal for young children at only $17.49 - but not for real use or even for educational use. Definitely not a good choice.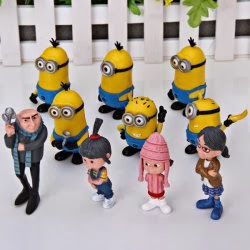 Then, I chose the ever Popular Character Dolls from
Despicable Me 2
Movie - These are made from PVC - no idea what that means but my kids absolutely love them! AND, they are only $12.99. These fun character dolls are small enough to throw in my purse, or the kids' travel bags to take anywhere. They can play pretend and use their imaginations wherever they go. The only negative I have is one of the adorable little minions is missing an arm - poor little guy arrived without it so we just ignore that little imperfection. Otherwise the detail on each character is surprisingly good for such small toys and my kids have a lot of fun re-enacting parts of the first and second movies using these character toys. A little over-priced in my personal opinion. I would not personally purchase these at the current price.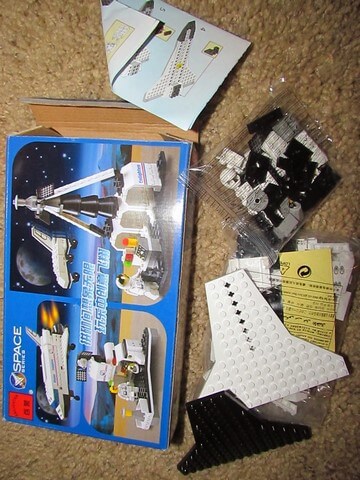 And last, but certainly not least - for this review I also choose a put-together set that is like Legos. It is of a
space shuttle
and came with wonderful step-by-step instructions. My girls and I started putting this together during our power outage as a way to keep their minds off the scary dark, no power, tornado weather and a way to help them focus on something fun. It turned out to be a great idea - before long, my son jumped in with his advice - being a lego pro - we were able to get this adorable space ship put together in no time at all.
Not only was it fun to work on as a family, but when finished, it has a movable arm inside the space shuttle that delivers a satellite into space. And, this set can also make a separate space station - though we did not have any instructions on how to make it, there is a picture on the box that looks like it would be fairly easy to create. This was another good choice - at only $6.66 was a very nice choice - and would make a fun gift!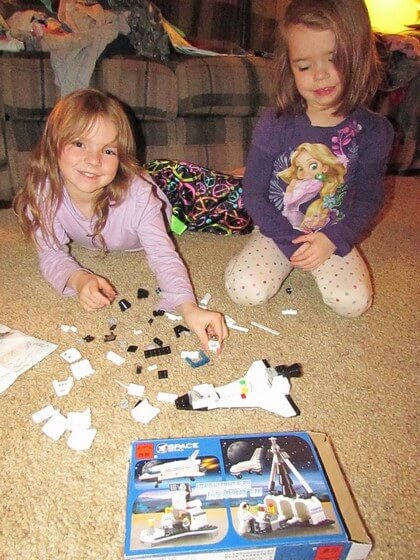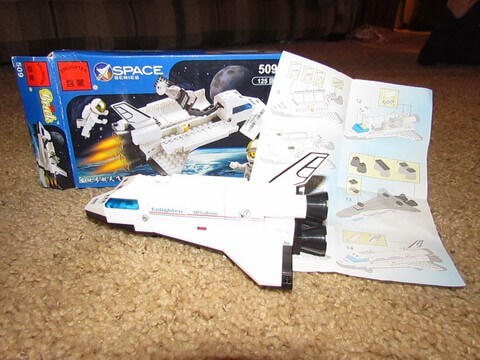 So, would it be worth it to purchase these myself? I like the space shuttle, shooting game and Despicable Me 2 toys - and the prices overall are pretty good but I am not sure that I would personally purchase from this website. There are too many unknowns - I leave it up to you to decide. This review is only my personal opinion and not that of anyone else's.
you can enter below to WIN 1 of these toys I reviewed!

Disclosure: I received free the item(s) mentioned in this post in exchange for my honest review. Regardless ~ All my reviews are my honest and personal opinion.
I am disclosing this in accordance with the Federal Trade Commission's 16 CFR, Part 255: "Guides Concerning the Use of Endorsements and Testimonials in Advertising.".