Disclosure: I got this product as part of an advertorial.
My Hikes Fasteners help kids and sometimes even moms "hike" up their pants. They are lightweight and comfortable. Kids love to wear them because they're cute, fun and they work.
They are for use in a variety of situations:
1) Size transitions: Previous size is embarrassingly short, but the next size starts out too long
2) Pants preservation: Kids are "walking off the hems" of that brand new pair of pants and driving mom crazy.
3) Capri style: Kids can shorten pants to get a capri look or for practical reasons such as
water play.
4) All weather: Pants can be lifted off the ground when rain and snow might dampen the hem as kids splash through puddles and muck. We all know a wet hem takes forever to dry!
My Hikes have passed USA safety tests for use with children of all ages.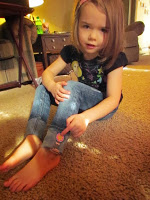 My older daughter has a thin waist and long legs, and I have found it hard to find pants that are small enough for her waist yet long enough for her to wear without being too short. So, when she passes on her clothing to her younger sister (Lydia age 5 1/2 - in photos), we have the opposite problem - the pants fit her waist but are usually too long for her. So, we decided to give My Hikes a try.
When offered the choice of design - I had to choose the adorable and "fashionable" flower for Lydia - as she feels that she can't wear anything unless it has "style". Here favorite outfits are usually skirts or dresses with leggings - getting her to wear jeans is difficult, but now that we have a set of My Hikes - she loves wearing her jeans to school, only with the My Hikes on though lol.
I love the variety of styles - the flower, butterfly and princess crown for girls - train and dump truck for boys - soccer and baseball for either! Now if they could just come out with a Peace Sign one for my 9 yr old daughter!
Now, for the only negative I could come up with - my 12 year old son could have used these as he was growing, but My Hikes were not yet invented - yes, I'm serious, that IS my only Negative! That, and I wish I had a couple more sets of My Hikes but that is easily solved by going to http://www.myhikesusa.com/ to purchase another set or two - OH and bonus - FREE shipping in US ($3.99 to ship to Canada)
AND, of course there HAS to be more right! My Faithful readers KNOW how much I LOVE deals!
Right now Mom Loves 2 Read's followers can get My Hikes for 40% off!
Just use code
MyHikes40off
OR get them for the same discount on
Amazon
($11.99 w/free ship USA)
Don't forget - these make great stocking stuffer gifts for kids and moms!