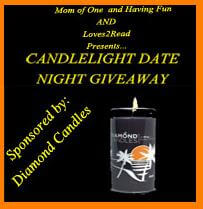 Mom Of One and Having Fun and Loves 2 Read teamed up with Diamond Candles to bring to you this great giveaway! For those who don't know, Diamond Candles is the company that puts a ring inside every candle, the rings are worth from $10 to $10,000! Their company has agreed to giveaway three candles totalling $75. God knows how much they're really worth with the rings in them.
This event is FREE. I will provide the RC and the HTML. Every Link after 1 will be $1 and $0.50 for a backlink. I highly suggest joining the facebook group:
for the giveaway.
As Taryn will be posting the HTML and RC there when it goes live.
Giveaway Dates are June 1st-June 16th. Deadline for sign-ups and Payments are May 28th.