Review of Summer of the Wolves by Lisa Williams Kline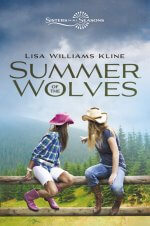 Stepsisters, yes. Friends? Maybe …
"I smelled the wolf now---sharp and musky. I scanned the pen and saw a shadow behind one of the bushes that might be another wolf. Probably two of the most miserable looking creatures I'd ever seen." –from Summer of the Wolves
Stephanie and Diana are having a hard time adjusting to life as new stepsisters. The girls "pretend" to like each other, but it's pretty hard considering they are complete opposites. When their new family takes their first-ever vacation to a horse ranch in North Carolina, not even long horse-back rides in the forest can tame their tempers. Diana's anger issues and Stephanie's fear of everything prove disastrous, until Diana discovers the caged wolves in the deep woods. She vows to free them, and surprisingly, Stephanie agrees to help. But their actions have unforeseen consequences, and if there's any chance to make things right, Stephanie and Diana must put their differences aside
Watch the Trailer:
My Review
:
Two step sisters are forced together by the marriage of their parents. Both are having problems, but are different in so many ways. The girls do not understand each other and find each other irritating and annoying at best . . . at worst, well, you'll have to read the book to find out.
A great novel of understanding others, showing compassion, and building relationships. These girls adn their parents must find ways to deal with difficult family members, difficult circumstances and most importantly making wise choices.
This was a great read, but not a light read. I was expecting it to be more fantasy or paranormal when I first started the book, but quickly realized that it is not - but, is a great read for what the book contains. Sometimes making a choice you THINK is right, does not turn out the way you hoped or planned. And sometimes the last person you want to help you, is the one person who can help you most. A great read for teens to adults.
*I received a free copy of this book through Netgalley for this review. All reviews are my personal opinion. See my Policy & Disclosure for more info
.