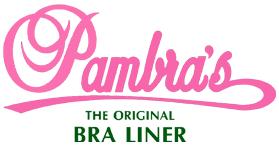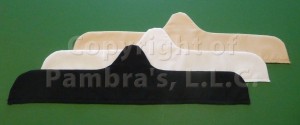 Running after an active (and dare-devil) 4 year old all day, and "bussing" 3 busy kids all over town for activities at night keeps me hopping. One of my biggest pet peeves and irritations is sweating! I hate being HOT, even worse for me is sweating under my bust. My bra soaks up the sweat and I feel icky all day until I can finally cool off and take a shower. Many days during hot & humid Summer weather, I may go through 3 or 4 bras in a single day. Even when I am not sweating through my underclothes, I hate the feeling of my underwire.
So, with that said, I felt it made me a perfect candidate to test out a new product called Pambra. It basically fits between your skin and the underwire part of your bra (or for those lucky enough not to need underwires - the bottom of your bra under your "bust"). It keeps the bra from rubbing that specific area under the cup and nicely absorbs the sweat so it doesn't show on your clothes! So, I tested it out in my backyard doing garden and lawn work, running around all day with the kids, and evening activities. At first it was a bit awkward, mostly because I think I ordered 1 size too big, but once I realized how to adjust it correctly (it usually helps to watch the video) it was comfortable. No underwire aggravating me, and all the sweat was soaked into the bra pad and not my bra or shirt It keeped the sweat off my clothes and bra and kept the bra from rubbing and making a line.
This is a great product for everyday use, during all types of weather, with all types of clothing and makes me feel much more comfortable when there could be a sweat issue! Once I got busy with my day, I sort of forgot it was their until I went to get changed into my 'jammies and it fell out. LOL Thankfully nobody was around to see. I highly recommend this product! Prom season is coming so I would grab one now!
Here is a demonstration from the Pambra's Website:
In addition to the Bra Inserts that I personally tried, both of my nursing Sister In Laws tried out the Nursing Pads and gave me their reactions and opinions for this review:
(M) Work great! Love them, so comfy and much better than the disposables I use. I love that they are washable, soft and fit perfectly. Although I do not have a lot of leakage right now, they absorb quickly and feel great. Love them!
(A) Currently I am going through lots of bra pads in a day as I am leaking quite a bit. Although these are soft and I love that they are washable, they do not absorb quickly enough to keep me from leaking through to my tops. Unfortunately I'll have to stick with the disposables.
PRODUCT DESCRIPTION:
Pambra's bra liners are soft cotton liners worn in the existing bra. The liners absorb perspiration under and between the breasts. Pambra's also add comfort to under wire and irritating elastic. Three liners one color to a package Dr. Recommended machine washable
Pambra's Two mastectomy styles are for women who have had mastectomies. These liners are used in Hospitals and sold in bra shops as well.
The TUMMY liner is patent pending as our newest product goes under the lower abdonimal fold of plus size people.
All our liners are Dr. Recommended, Lab tested and are the first of their kind. Pamela invented each of these products herself Since 1990.
*I received one or more of the products mentioned above for free using from Pambra.

I only recommend products or services I use personally and believe will be good for my readers.