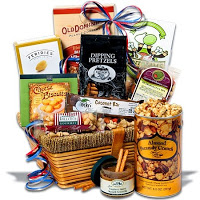 I received a free gift basket of goodies for review from Gourmet Gift Baskets ~
http://www.thebestgourmetgiftbaskets.com/
They have Gift Baskets for Any and All occasions - Mother's Day, Father's Day, Appologies!, Weddings, Seafood baskets, Holiday, Baby Gifts and MORE . . . they even have CHOCOLATE LOVER'S baskets! Oh My!
Want to know more? or see what all they have to offer? Then check out their website for the full list of all their Gourmet Gift Baskets and more.

When my Gourmet Gift Basket arrived, I had my three children sit down at the kitchen table with me - poor daddy missed out since he was at work, but the kiddos and I just could not wait to taste test everything inside the beautifully wrapped basket!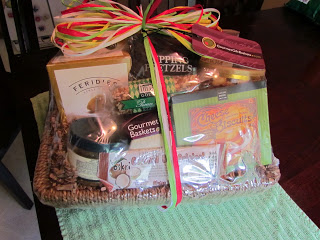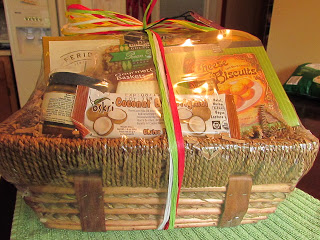 As I prepared the table, the kids and the basket - I thought to myself, this is so much fun! Almost like a mini indoor picnic! I wonder how many people received these Gourmet Gift Baskets and truly take the time to enjoy them?
Anyway, my kids were a bit impatient and wanted to dig right in. I made them wait so I could take pictures of all the items in the basket - write them all on paper, then jot down our notes as we tried each item one at a time. My son, Josh was an excellent young reviewer! He would offer comments on some items after his main "like it, love it, don't like it?" comment.
But, back to the basket: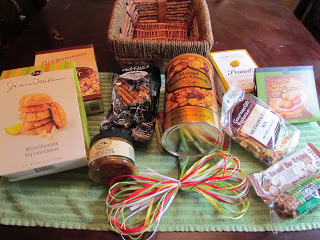 Inside this cute basket was the following items:

Buttered Peanut Crunch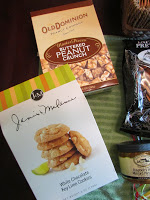 White Chocolate Key Lime Cookies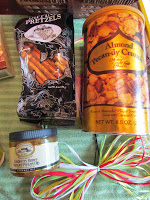 Dipping Pretzels
& Raspberry Honey Mustard Dip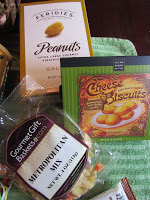 Almond Pecan-dy Crunch
Feridies Peanuts
Cheese Biscuit Mix: (we have not yet had a chance to try this)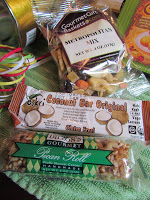 Metropolitan Mix
Coconut Bar Original
Gourmet Pecan Roll
Now for OUR review:
We started with the White Chocolate Key Lime Cookies (of course we have to start with cookies!) and the results are:
Alli ~ "really good" and liked "everything about them!" Very enthusiastic response.
Lydia ~ "really good" and she liked the "chips the best" (white chocolate chips)
Josh
~ "pretty good" says they "taste like lemonade Girl Scout cookies"
Me
~ "good" kind of taste too citrisy for me. The "key lime" flavor overwhelms the white chocolate, but not bad.
Next in line was the
Raspberry Honey Mustard Dip
with the
Dipping Pretzels
:
*just so you know, none of my kids like regular Honey Mustard, but I do - so it was a challenge to get them to try it at all!
Alli ~ "yuck, no thanks" but really liked the pretzels
Lydia ~ *would not even try it - but loved the pretzels!
Josh
~ "ok for honey mustard, but wouldn't want to eat it"
Me
~ pretty good but only for a dip or two, is a bit strong - after a couple small bites I couldn't eat anymore - it was pretty sweet and a bit tangy - the pretzels are very good, and taste fresh
And next came the
Buttered Peanut Crunch
:
*this is sort of like mini peanut bruttle squares*
Alli ~"hard to eat at first" (she is missing some front teeth right now) "but really loved it" (when she finally could crunch down and eat it - lol)
Lydia ~ "yummy", but was hard for her to eat
Josh
~ Really Good! Liked how there's just enough caramel taste and he could still taste the peanuts too!
Me
~ good, not too sweet, great for a quick snack or treat
Then we got to the
Coconut Bar Original
Alli ~ "not very good"
Lydia ~ "don't like it"
Josh
~ "like it pretty good"
Me
~ It is ok, but the sweetened coconut in packages at the store tastes better. This does remind me of eating fresh coconut straight from the tree though slightly sweeter. Would be good for someone who loves coconut, and convenient since it is in bar form.
Feridies Peanuts
Alli ~ "GREAT! Better than the store ones or trail mix nuts!"
Lydia ~ *does not like peanuts*
Josh
~ "pretty good"
Me
~ Much harder and drier than what I am used to eating. The store bought ones are easier to eat and tastes better to me. These didn't have much flavor and were hard - I didn't really care for them.
Gourmet Pecan Roll
Alli ~ "love it! tastes like cake with icing and nuts on it" asked for seconds!
Lydia ~
"I like the cream - YUMMY" - also asked for seconds!
Josh
~ "love it!" wanted MORE! (please)
Me
~ Tastes like a marshmallowy, sweet icing with nuts. Is too sweet for me, but those with a sweet tooth will love it!
Metropolitan Mix
Alli ~loved the cranberries, raisins, pineapples and papaya best
Lydia ~ liked the fruits, except the banana chips and nuts
Josh
~ it's ok
Me
~ Banana is ok, though dry and crunchy bananas are not my favorite - lol, The nuts were bland/dry, Cranberries surprisingly sweet, only slightly tart - very good (i don't usually like cranberries), pinapple and papaya were bland - Raisins also good, sweet.
And last but certainly not least - my son's absolute favorite!
Almond Pecan-dy Crunch
:
Alli ~
Love It! Even the Nuts!
Lydia ~
Yummy!
Josh ~
My absolute favorite of the whole basket - can I have more Mom? PLEASE!?!" (yes, he really DID say the "P" word!)
Me ~
Very Good! not too sweet, just right. Now I have to try not to eat the whole thing! The nuts are sort of candy coated - it reminds me of a sweeter version of Cracker Jacks (only without the toy prize - lol) yummy!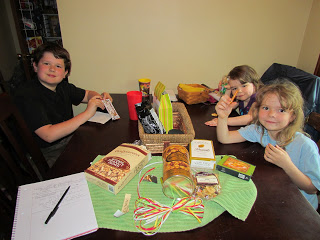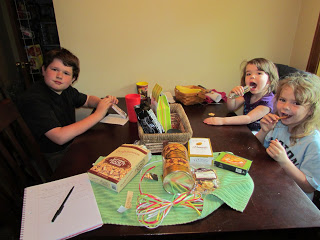 MY REVIEW HELPERS!
A Special thanks to my helpers:
Josh, age 10 1/2
Allison (Alli), age 7 1/2
Lydia, age 4
*I hope you enjoyed my family review of Gourment Gift Baskets - Please comment below if you like posts like these - also, if you are interested in winning a Gourmet Gift Basket for yourself (or to give to a friend) - look for our May Day Giveaway Event starting May 14th (my birthday) - Gourmet Gift Baskets is sponsoring one of the prizes!*
**a special thanks to
Taryn of Mom of One and Having Fun
for connecting me with this sponsor**
*I received a free product from Gourmet Gift Baskets for this review. I was in no way compensated or required to post a positive review. ALL reviews are my PERSONAL opinion - see my FTC Disclosure for more info.