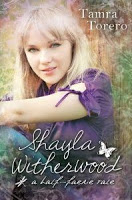 A brief moment of disappointment washed over me as I approached Jace's lifeless body. Here I was, about to kiss a boy on the lips for the very first time, and he was completely comatose—possibly paralyzed—and would never even know or remember the experience. This was not how I'd envisioned my first kiss—me invisible, him unconscious.
Shayla Witherwood is not exactly normal. First of all, she's spent her entire life being home-schooled, traveling in an RV around the country with her grandparents. And second, there's the kind of inescapable fact that her mom was a genuine faerie.
But now that she's starting a real life in a regular high school, Shayla desperately needs to stay out of trouble in both worlds because even her faerie powers might not be enough to protect her from what's coming.
B'Tween Prose: Shayla Witherwood ~ A Half-Faerie Tale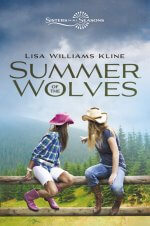 Stepsisters, yes. Friends? Maybe …
"I smelled the wolf now---sharp and musky. I scanned the pen and saw a shadow behind one of the bushes that might be another wolf. Probably two of the most miserable looking creatures I'd ever seen." –from Summer of the Wolves
Stephanie and Diana are having a hard time adjusting to life as new stepsisters. The girls "pretend" to like each other, but it's pretty hard considering they are complete opposites. When their new family takes their first-ever vacation to a horse ranch in North Carolina, not even long horse-back rides in the forest can tame their tempers. Diana's anger issues and Stephanie's fear of everything prove disastrous, until Diana discovers the caged wolves in the deep woods. She vows to free them, and surprisingly, Stephanie agrees to help. But their actions have unforeseen consequences, and if there's any chance to make things right, Stephanie and Diana must put their differences aside.
B"Tween Prose ~ Review: Summer of the Wolves