Introducing the new Schick Hydro Silk™ razor! It's specifically designed for women and goes beyond the basics to deliver a shaving experience that hydrates skin like no other razor.
A special water-activated Moisturizing Serum hydrates to replenish skin's natural moisture throughout each shave. It's infused with nourishing marine extracts and rich shea butter
My Review
: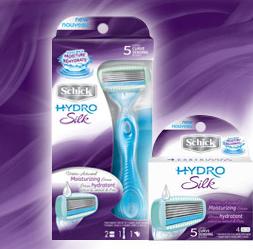 I have used this Hydro silk razor two times now. I've compared it to my usual brand and find it is just as good overall. Here are the few differences:
My brand = a little closer shave and a little more time (like maybe another day) between needing to reshave.
Hydro Silk = softer, smoother shave and less fear of nicks and cuts. I feel a bit more comfortable using this one over any other.
If I had to choose between disposable razors and Hydro Silk - I'd definitely choose Hydro Silk
If I had to choose between my current brand of refillable razor and Hydro Silk , I might Choose Hydro Silk (but unfortunately I have another 9 refills on my current razor) - and I LOVE the coupons that came with my sample! Always a bonus when coupons are included!
Skin Guards are added to each blade, doubling the points of contact between the blades and the skin. The blades and Skin Guards work together to smooth your skin as you shave and to reduce irritation.
*I received a free sample of this product through Insider Hub for this review. All reviews are my personal opinion and are never influenced else. See my Policy & Disclosure for more info!