Today I have the pleasure of welcoming a special guest
Author Thomas Block, Us Airways Captain (retired)
Author of "Captain" and host of Amazon GC giveaway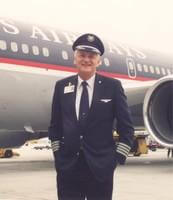 I was a professional pilot for a long time (I finally retired a dozen years ago), and a professional writer for almost as long as I flew airplanes. While my airline flying is behind me, the writing portion of my professional life hasn't retired in the least; matter of fact, it's been cranked up a peg or two in the past few years.
I flew for an airline for over 36 years, ending my career crossing the North Atlantic several times a month as I plied my way between the US and various European cities -- just like my characters do in my latest novel Captain . My professional writing began a few years after my airline flying, first strictly with magazine work but then on to novels as I began helping my childhood friend Nelson DeMille as he began his own bestselling novelist career. Over the years, I have assisted Nelson DeMille with a good many of his novels in one way or another, and you'll find that fact in most of his novels on the acknowledgement page - including a very generous mention of my new novel Captain inside DeMille's newest novel, The Panther, which was released in October, 2012. Here is an extract from that acknowledgement section of The Panther
"Many of my novels have benefited from the assistance of my childhood friend Thomas Block, US Airways Captain (retired), columnist and contributing editor to aviation magazines, and co-author with me of Mayday, as well as the author of seven other novels. Although Tom has retired as an International captain, he has not retired from writing, which does not require good eyesight or quick reflexes, and Tom has recently published his seventh novel, Captain , available on his website:

www.ThomasBlockNovels.com

.
Many thanks, too, to Tom's lovely wife, Sharon Block, former flight attendant for Braniff International and US Airways, for her timely and careful reading of the manuscript and her excellent suggestions, as well as her keen eye for typos and bad punctuation. Sharon's reading skills have been invaluable to both me and Tom, as our minds tended to wander in high school English class. What we were thinking about is another story, but we both knew we'd someday have a lady in our lives who knew how to proofread."
In 1978, with Nelson DeMille's help and introductions (his breakthrough novel By the Rivers of Babylon had made him into an International bestselling novelist the year before), I signed a contract to produce my first airplane action/adventure novel Mayday - which went on to also become an International bestseller. In 1997, Nelson and I took the out-of-print Mayday, revised and updated it together, then republished the novel with both our names as co-authors. That version became a CBS Movie of the Week in October, 2005, and is still readily available from Nelson DeMille's extensive backlist.
During the 80's I wrote five additional novels that had a good run of success throughout the world. For various logistical reasons I didn't find myself writing any novels through the 90's, although I did do even more work with Nelson DeMille through that period and well into the new century. With all of my old novels long out of print (excepting Mayday), I realized that with the dawning of the new era of publishing for both print and ebook versions, that I could go back to those older novels (the rights to those works had long since reverted to me), extensively revise and update them, and then send them back out to once again see the light of day - now dressed up in their modern-day clothing. All of these novels were basically airplane-theme action/adventure, although they ran a gamut from hypersonic airlines on through Airships and even a detective story. You can see all of the details of these novels - which continue to sell nicely and receive good reviews - at our website at

www.ThomasBlockNovels.com

.
But in the back of my mind I had yet another story - a new story that needed to be told in a more classic manner, with emphasis on character and plot, motivation and timing. As always, it would be an aviation-theme action/adventure - but unlike most of the modern stories I was reading, I refused to pump it up gratuitous violence, sex and endless mayhem. To me, many modern novels (and especially modern movies!) are hardly more than comic books with storylines that don't hang together and with endless and brutish snapping from scene to scene as if the creators expected that the audience had an attention span (and a companion attention to detail) that could only be measured in the smallest portions possible.
So I wrote Captain , a story developed in a more classic fashion, with a beginning, middle and (what I wanted to be a very satisfying) ending. It is a story about what happens to the crew and passengers on a particular flight from Rome, Italy to New York when unthinkable things begin to happen to their airliner. It is full of characters that readers have repeatedly told me that they loved - and also loved to hate. It is an action/adventure tale with a backdrop of emotions. It is a novel that slowly moves from scene to scene - but at a fast pace. Is that sort of mix possible? Look at the classic movies Casablanca and Dances With Wolves, or the novel Lonesome Dove. That's exactly what I was trying to do with Captain; a number of reviewers and general readers have told me that, to them, Captain is a powerhouse of emotions while it is simultaneously packed with a very high level of action, intrigue and adventure.
When I finished Captain we sent it to several New York publishing houses but their editors initially told me that 'airplane stories were out' and 'this isn't what readers want these days'. Since Captain was the story that I wanted to tell and in the manner that I wanted to tell it, we redoubled our efforts and eventually persevered. Captain is now published Internationally in print editions and all ebook formats.
Captain is an exciting adventure story that you can curl up and spend an enticing, intriguing, enjoyable time with; that's the opinion of so many who have already read Captain , which you can see for yourself in vast array of very positive reviews! I probably don't have to tell you that I'm very proud of what Captain has meant to those readers, and I can personally assure you that you'll be quite satisfied with the time and effort you'll be spending with the crew, the passengers and the other characters involved in the emotional saga of Trans-Continental Airlines Flight 3. Welcome aboard.
About the Book :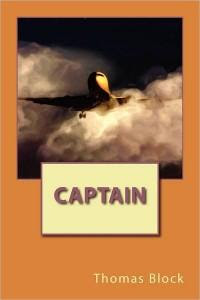 Thomas Block has created
'Captain'
– his most ambitious, intricate and action-packed aviation tale yet . It is a chilling and all-too-real story about a routine Trans-Atlantic airline flight that suddenly turns absolutely insane. In the doomed airliner's cockpit, inside the passenger cabin and on the ground, a complex array of characters have been propelled at jet speed into a sudden and frantic race for survival.
'Captain
' is about the individual and collective struggles of each of these men and women as they attempt to deal with and ultimately fight against the odds and circumstances that are stacked against them.
'Captain'
is a novel that pits man against man while also pitting man against machine. It is a story about the need for human judgments, hard-learned experiences, gut feelings and unbridled perseverance in an effort to rise up against a world where the strict adherence to written rules, regulations and procedures have been accepted as the norm.
'Captain
' is about the way real airline pilots think, feel and react, especially after those giant airliners that they've strapped themselves to have suddenly turned vicious and unpredictable
Now you can enter to win one of 5 Amazon Giftcards! Contests will run from Oct 1st through Jan 13th, 2013 - winners will be notified on Jan 14th!
a Rafflecopter giveaway


All info contained in this post was provided by th

e author and Pump Up Your Book Tours

. If you have any questions or comments, please see my FTC disclosure or Review Policy.