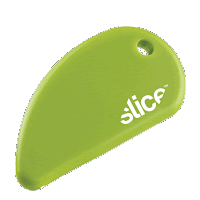 The Slice™ Safety Cutter is the most versatile tool you'll ever own. Features a finger-friendly microscopic ceramic blade that's quick, easy and a safe substitute for scissors or traditional safety knives. Slice Safety Cutters are perfect for scrap-booking, clipping recipes, coupons and news articles, removing shrink-wrap, opening CDs, DVDs, plastic packaging, and more. Includes a built-in magnet and key-ring hole.
- Ceramic blade lasts longer than steel
- Stays sharp and never rusts
- Built-in magnet and key-ring hole
- Rubberized non-slip finish
- Finger-Friendly™ Design
- For left- and right-handers
Perfect for Couponers!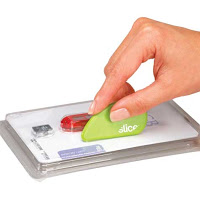 My Review:
I abolutely love my slice! This is the best safety cutter I've used so far. I am never worried that my kids will accidentally cut themselves if it is left within their reach, and it is so easy to use! It fits comfortably in my hand and snug in my grip. I have used it to open those hard plastic cases from the store that I usually have to struggle with scissors to open - it slices easy, clean and with only a little effort. My hands never hurt from using the slice, like they do with the use of scissors occasionally. It is gentle enough - depending on how much pressure I put on it- to cut coupons and paper, yet strong enough to cut through cardboard and plastic containers.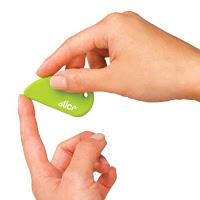 The tiny cutting edge is not metal, but a small bit of well-shaped ceramic, so it will never dull - yet it is safe enough to rub against my fingertip without causing an injury. I would recommend this safety cutter to anyone, but I highly recommend it for those with arthritis, young children, or anyone who likes to have a cutter handy on their keychain, in the car, on the fridge, in the garage or anywhere you can think of. An excellent product, just wish I'd thought of it first - :)
Visit the Slice Safety Cutter website for this and other great safety kitchen gadgets: http://www.sliceproducts.com/

I received one or more books or products in the post above for review purposes only. I was in no way required to write a positive review. All my reviews are my honest and personal opinion
. If you have any questions or comments, please see my FTC disclosure or Review Policy.