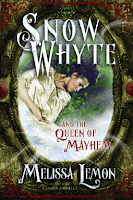 Katiyana Whyte's world is only as big as the apple orchard she was raised on. She can never leave the home where she grew up under the careful eye of her great uncle Barney. But when life at the orchard suddenly becomes dangerous and her childhood friend Jeremy begs her to flee, Kat finds refuge in the Fluttering Forest with seven dwarfs.
Meanwhile, the queen of Mayhem, an evil sorceress, learns through her magic mirror that the daughter she believed to be dead still lives. Enraged, she sends a servant to kill Kat, the princess of Mayhem, but Kat finds protection in a spell that causes snowstorms whenever she is in danger, giving her the nickname Snow Whyte.
My Review
:
I love Melissa Lemon's books and Snow Whyte and the Queen of Mayhem doesn't disappoint. Once again one of the classic fairytales is brought to life in a unique and unexpected way with twists and turns that capture the imagination of the reader. I was captivated from the beginning and could not put this book down until I had read to the very last word. A well-written piece of fantasy and imagination that is definitely worth reading. But don't expect the same classic story, this one is as different as the classic Snow White was from her stepmother.
About the Author
:
Melissa has been writing stories since she could hold a pencil in her hand and she has a deformed, calloused finger to prove it. She began twisting fairy tales in the fifth grade when she wrote a story about George of the Jungle making his way to Neverland. Melissa enjoys writing, making music, reading, baking and running. She lives with her husband, three daughters and cat named Matilda. To learn more about author Melissa Lemon and her other book
Cinder and Ella
you can visit her at these links:
http://www.authormelissalemon.com/
#/authormelissalemon
https://www.amazon.com/author/melissalemon.com

I received one or more books or products in the post above for review purposes only through Netgalley.com. I was in no way required to write a positive review. All my reviews are my honest and personal opinion
. If you have any questions or comments, please see my FTC disclosure or Review Policy.