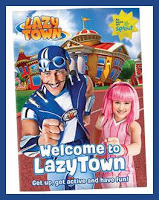 Synopsis:
In "Welcome to LazyTown," the inquisitive, adventurous and playful Stephanie comes to live in LazyTown and meets a zany mix of townspeople, including the world's laziest super-villain, Robbie Rotten. Fortunately for Stephanie, LazyTown is also under the watchful eye of Sportacus, an athletic, super-fit, SuperHero, who runs, jumps, flips and flies to the rescue in his futuristic AirShip. Sportacus always manages to save the day and help the kids of LazyTown foil Robbie's latest lazy schemes.
The Prize Pack For This Giveaway Includes:
1 Welcome to LazyTown DVD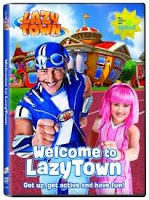 Kidtoons is also offering a Kidtoons

BOGO

that is good at any of our theaters nationwide for this movie. (Good for one per family.)
http://www.kidtoonfilms.com/Promotion/FREE_KidtoonsTicket.pdf
Check out the link above to see if LazyTown is in a Theater near YOU!
Enter Using the Rafflecopter for below for your chance to WIN!
Open to US!
a Rafflecopter giveaway
About Kidtoons:
Since 2004, Kidtoons has been bringing beloved and well-known children's brands and entertainment to cineplexes nationwide. We provide a family friendly, affordable, co-viewing experience that parents can count on each month, year-round to bond and create treasured memories with their kids. Each monthly program is designed for kids 3-8 and their parents.

Another service Kidtoons provide parents is our educational expert Dr. Donna Mitroff. Dr. Donna reviews our monthly features and provides additional information about the plot, the level of action and the types of humor in each movie, as well as some thought-provoking discussion points and activity ideas for the whole family.

All info in the above post was provided by the sponsor ~ Kidtoons. All questions should be directed to them. All my reviews are my honest and personal opinion
. If you have any questions or comments, please see my FTC disclosure or Review Policy.