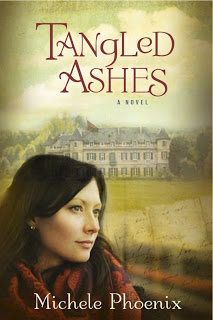 When Marshall Becker arrives in Lamorlaye, France, to begin the massive renovation of a Renaissance-era castle, he unearths a dark World War II history few in the village remember. The project that was meant to provide an escape for Becker instead becomes a gripping glimpse into the human drama that unfolded during the Nazi occupation and seems to live on in midnight disturbances and acts of vandalism.
Populated with a cast of complex characters, "Tangled Ashes" follows Becker's exploration of the castle's shadowy past as he seeks to cope with an unbearable present. From the virtually mute recluse who lives in the gatehouse to the feisty and enigmatic nanny of the owner's children, every one of the château's inhabitants seems to have something to hide and something to survive—but none more so than Becker himself.
My Review
:
My imagination was immediately captured by the description of the castle and the idea of the history with the Nazis and World War II. I love a good historical romance, so I thought this might be a book I would enjoy reading. I must say, there is little to no romance, yet the mystery surrounding each of the characters in this story as well as the castle itself is so intriguing that I could not stop reading. I was drawn deeper and deeper into the back and forth between what happened in the past while the Nazis took over the chateau, as well as the current time where each person had something not only to hide, but a struggle within him or her that would be brought to light toward the end of the book.
This is one of the few books I've read where I could not predict the outcome, yet was so entranced with the story and characters that I just could not put the book down. I loved the emotional and physical struggles and the interaction between many of the characters. I especially enjoyed the banter between Becker and Jade. I loved reading about the details of the chateau itself both in it's past as well as the current renovations.
A wonderful historical mystery well-written, and worth reading.

I received one or more books or products in the post above for review purposes only through Handlebar Publishing. I was in no way required to write a positive review. All my reviews are my honest and personal opinion
. If you have any questions or comments, please see my FTC disclosure or Review Policy.