Another Wonderful Mommy Moment with my youngest.
Lydia is 4 years old and loves to mimic her older sister and brother. Her big brother loves to help cook and one of his favorite things to do when helping with a meal is to don and apron, complete with napkins, straws notebook and pen and "take our orders" for supper.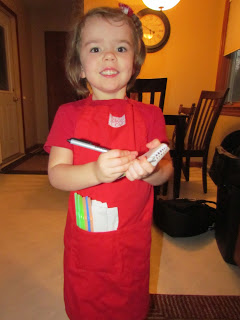 My little Lydia decided that while the big kids were at school, she should be my little waitress helper. She went and got her step stool from the bathroom - put on her apron (with help) and went to fill her pockets with all the necessary items to be my kitchen helper.
Then she decided to take my order. We were having spaghetti, and she asked me how to spell SPAGHETTI. I told her it might be easier to write PASTA instead.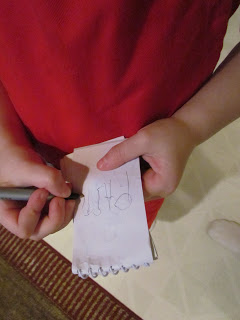 Now I could do it the "normal" way and just spell it out letter by letter, but I thought that instead of telling her the LETTERS to write, I would say the Letter SOUNDS and have her figure out which letter to write. It took her a little to figure out the short A and Short I (MILK) sounds, but she did a wonderful job guessing the letters. She was so excited when she was right!
We found a new game and now she wants to "play" everyday!
What fun games do you play with your little ones to help them learn around the house? Do you play see-and-find games while grocery shopping? Or I-spy at the doctor's office? Comment below and tell me your fun ideas
.

I received one or more books or products in the post above for review purposes only. I was in no way required to write a positive review. All my reviews are my honest and personal opinion
. If you have any questions or comments, please see my FTC disclosure or Review Policy.