As I was searcing around for some fun, healthy and creative food ideas for the upcoming Thanksgiving Holiday ~ I found this recipe that sounded absolutely delicious. I plan to make it and take it to our family's Thanksgiving get-together this year!
Sweet Potato Bites
Mixture
:
2 medium sweet potatoes
1 tbsp pure maple syrup (I used honey instead)
1/2 tsp cinnamon
pinch of nutmeg
pinch of cayenne (optional)
Topping
:
1/4 cup finely chopped walnuts (can also use pecans or almonds)
1/4 cup rolled oats (or quick oats)
3 to 4 tbsp shredded coconut (or unsweetened)
1 to 2 tbsp brown sugar (depending on how sweet you want them to be)
Instructions
:
Preheat oven to 375°F.
Wrap the sweet potatoes in aluminum foil and roast them in the oven at 375°F until tender, about 40-60 minutes. Take out of the oven, unwrap and let cool. Once completely cooled, peel the potatoes and mash them in a bowl (I used a fork). Add the maple syrup (or honey) and spice, mix thoroughly.
Combine the walnuts, oats, coconut and brown sugar on a shallow plate for coating the balls.
Scoop out portions of the sweet potato mixture using a tablespoon measure and roll into a ball with your hands. Roll each ball in the topping mixture, then place in a greased 8x8 or 9x9 baking dish. Repeat for the rest of the mixture.
Bake at 375°F until the topping is golden brown, 20-30 minutes.
Serve warm or at room temperature.
Makes about 24 balls.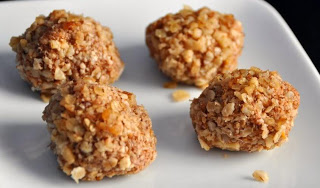 Now doesn't that sound like a yummy appetizer? I can't wait to try them myself!