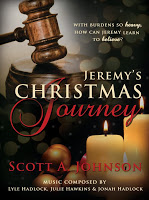 For Jeremy, Christmas is just another reminder that he'll never be able to enjoy the things that come so easily to other children.
Then one night he has a dream that will change everything.
Accompanied by stirring music, this story of finding faith and discovering the power of the Master Healer is sure to be cherished at Christmastime and all year long.
My Review :
Jeremy's Christmas Journey is a thought provoking and emotional story about a young boy who is wheelchair-bound and struggling with bitterness and anger at God. He has a dream one night about the persecution of Jesus and the aftermath of that dream changes him. Along with the heartfelt story of young Jeremy is soothing music with the lyrics included, which adds a depth to Jeremy's story that all ages will enjoy.
The music is emotional and inspiring and compliments the story very well. A great addition to any family Christmas Celebration or as a gift to family or friends.
Now for the Holiday FUN ~ To celebrate the New Release of Jeremy's Christmas Journey - Author Scott Johnson is graciously providing a giveaway of one copy of this book ~ Simply enter using the form provided
***
Giveaway will run from 11/6 through 11/26
***
(that way the book should arrive in plenty of time for the Christmas Holiday!)
Loading Entry-Form...
...

I received one or more books or products in the post above for review purposes only. I was in no way required to write a positive review. All my reviews are my honest and personal opinion
. If you have any questions or comments, please see my FTC disclosure or Review Policy.