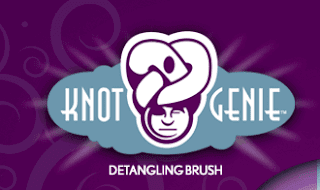 Magically gets rid of knots. Not to mention complaining.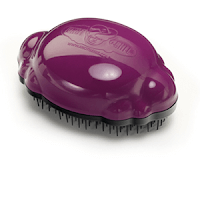 The Knot Genie™ Detangling Brush was created for every mom that has endured the foot stomping and screaming matches that come with brushing their child's hair. With the Knot Genie, even the curliest, most knotted up hair practically slips through the unique bristle configuration – gently and painlessly. Try the Knot Genie on your kids (or on yourself) – you'll be amazed by the ease of brushing, as well as how it virtually stops breakage and split ends. You've wished for hair brushing standoffs to end. Wish granted.
Handles like a dream.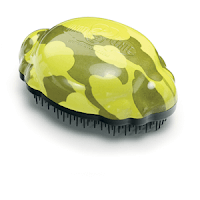 The fact that The Knot Genie isn't like traditional hair brushes goes way beyond the bristle side. Its unique cloud-shaped top fits the palm nicely, whether you're right or left handed. Which means it feels more like an extension of your hand than a grooming tool. And also means the brushing process is far more comfortable, gentle, and most importantly, done quickly. Voila!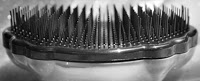 My Review :
Both of my daughters have sensitive heads just as I did when I was their age. We tried the Knot Genie out with both wet and dry hair. I have to say it works better for us on wet hair, and seems to get the tangles out much better than a regular comb. On dry hair it seems to snag the tangles almost as bad as a regular comb so my older daughter won't use it when

her hair is dry at all.
Our only dislike is that the "bristles" are a bit rough on the skin. If used with gentle pressure, it feels a bit strange but not painful on a sensitive head, but after I am finished combing it through my hair, my scalp feels like I just received a massage. My daughters both can only use it or have it used on them when gentle pressure is exerted and I try not to press down on thier scalps when brushing th

rough their hair.
I do love that I don't have to spray their hair with chemicals like detangling sprays when using the Knot Genie. I love how easy it is to use and how easy it is to keep it where I can find it - our combs and brushes tend to travel all over our house and the Knot Geni

e does not get lost easily
. A great in
vention for detangling hair on sensitive heads.
**Knot Genie is one of the sponsors for my upcoming All I Want for Christmas Giveaway - I will be giving away 3 Knot Genies (thanks to a friend who provided 2 more) - One Purple, One Camo, and one Silver during the event which starts Nov 24th!**

I received one or more books or products in the post above for review purposes only. I was in no way required to write a positive review. All my reviews are my honest and personal opinion
. If you have any questions or comments, please see my FTC disclosure or Review Policy.