Easy on your back
Safer for baby's arms and shoulders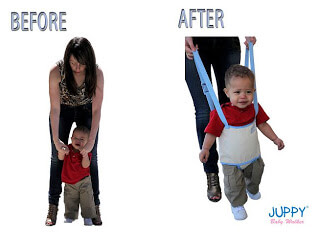 I remember

how much I had to bend over

when my kids were first learing to walk. After a few minutes I would have to stand up and stretch out my back. I also have a friend whose little one ended up with a sore arm from a big sibling trying to "help" baby learn to walk. I love the Juppy Baby Walker. It definitely makes it easier for Mom or Dad to help baby learn while not causing sore back and sho

ulders for baby or parent!
My youngest is 4 and of course already walking, running, jumping and then some. So I went

over
to my SIL's house and "borrowed" my adorable niece for this review. She seemed a bit puzzled at first when Mom and I put the Juppy on her. But as soon as we got her set up, she started putting pressure on her toes and jumping. It w

as so cute!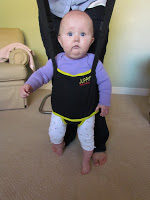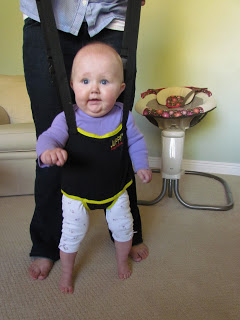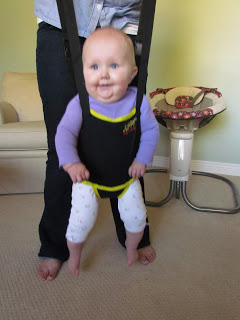 Since darling Scarlet is only 7 months old and not quite at the pre-walking stage, I bent down on the floor below mom and moved her little feet in a mock-walking pattern, she just smiled and started moving her feet with me.
(sorry - not sure why this picture keeps going sideways)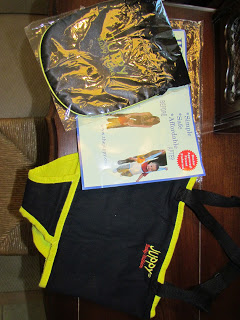 When I opened the package - I was impressed by the quality of the fabric used. The outside fabric is a durable cotton, and the inside is lined with a softer cotton in the color of the trim. The "handles" are strong and well-secured.
Juppy
comes with a satiny pouch, so you can fold it and keep it clean, throw it in the diaper bag and take it anywhere.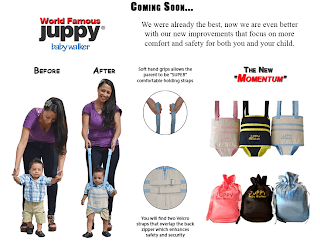 The Juppy is great for early walking and pre-walkers. "Mom" (my SIL) says that it is much easier than trying to hold baby by the hands or arms to help her learn to walk. She likes how durable and secure the Juppy is and how easy it is to use.
**
Juppy
is one of the prizes in my All I Want for Christmas Giveaway event coming Nov 24th - Dec 10th- winner will recieve their choice of either the blue or black Juppy and have it personalized as well (open to U.S and Canada)
Juppy j
ust reduced the price of The Juppy Baby Walker from $29.95 to $19.95. This is because The Juppy "Momentum" is almost here and is going to be priced at $29.95

I received one or more books or products in the post above for review purposes only. I was in no way required to write a positive review. All my reviews are my honest and personal opinion
. If you have any questions or comments, please see my FTC disclosure or Review Policy.