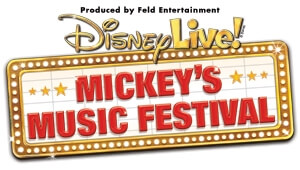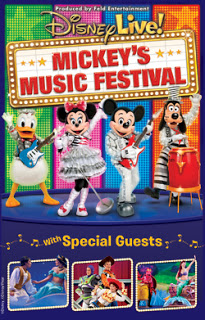 What did I do on Black Friday You ask?
Well, I took my two girls and a couple of friends to see Disney Live! Mickey's Music Festival at the Peoria Civic Center!
The show was fun and entertaining from start to finish.
All three girls loved it! My youngest daughter is 4 and her favorite part was when Ariel came out on stage! She was singing along with the songs and dancing in front of her seat. She also says she loved seeing Goofy, Mickey, Minnie, and Donald all dancing and singing on stage. There was a part of the show when they tossed out giant "meteors" into the crowd (during Buzz Lightyear's part) and she was a little disappointed that we were too far back to get to hit the "meteors."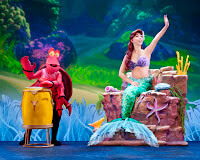 The older two girls are both eight years old. They were laughing and singing the whole time. They loved when Jasmine and Genie arrived on stage. Genie of course came out with smoke and a "bang" and they both said it was one of their favorite parts. They were dancing and singing along through the entire show.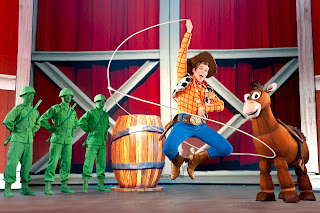 One of my favorite parts was when the toy soldiers came out and danced. I also enjoyed watching a horse Jump Rope! Such fun!
The finale was amazing and my girls could not stay in their seats. Throughout the show there were several times when those on stage interacted with the audience. It was such a fun time for all.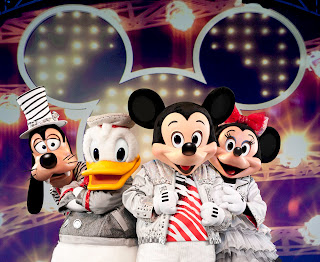 As a parent, I love knowing that there are wholesome family shows right here locally that I can take me kids too. I love that I don't have to worry about ratings or "adult humor" but can sit back and allow my kids (and myself) to enjoy some great, fun, safe entertainment without the worry. The tickets were priced fairly and I even received a discount code off of any tickets I purchased when I parked!
I will definitely be going back to the Peoria Civic Center in the near future for great family friendly entertainment! Keep watch here on my blog for future ticket giveaways for PCC events!

I am a Feld Family Ambasador, and in exchange for my time and efforts in attending shows and reporting my opinion within this blog, as well as keeping you advised of the latest discount offer

s, Feld Entertainment has provided me with complimentary tickets to Feld shows.
I was in no way required to write a positive review. All my reviews are my honest and personal opinion
. If you have any questions or comments, please see my FTC disclosure or Review Policy.