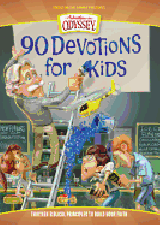 Written by the Adventures in Odyssey team, 90 Devotions for Kids: Biblical Principles to Build Your Faith provides fun, Bible-based devotions for families that encourage children to spend time learning more about God. There are no better mentors than Whit and the folks from Odyssey to partner with parents as they teach their children about God's Word and make the truths of the Bible accessible to their kids.
90 Devotions for Kids includes thirteen weeks of devotions and the sidebars from Odyssey favorites Wooton, Whit, Connie and Eugene provide friendly suggestions for life applications. Each week has an individual theme and includes an overview to introduce the theme, seven devotions that reference AIO dramas and an activity, puzzle, or game to reinforce the core biblical truths taught during the week.
Features:
Creative Daily Challenge ideas to keep kids thinking about each lesson long after they've finished reading it

Fun activities to involve the whole family in biblical learning and accountability

Lessons drawn from favorite Adventures in Odyssey audio dramas

Theme puzzles to reinforce the spiritual lessons in thought-provoking ways

Whit and Wisdom - Friend and mentor John Avery Whittaker explains important Bible truths in easy-to-understand language

Connie's Corner - Connie relates spiritual applications to her own life

Loquacious Learning with Eugene - Odyssey's favorite intellectual shares important cultural and biblical facts

Wandering with Wooton - Musings from the wacky postman on all things licorice and godly
Using this fun and informative book, parents will find the tools they need to help start children on a path toward regular time alone with God, and families will be encouraged to spend time together as they share the daily readings.
My Review :
90 Devotions for Kids from Adventures in Odys sey and Focus on the F amily is a great daily devotional for children ages 3 and up. It has many themes like Salvation, Discipleship, Forgiveness, Prayer and more. With six or seven devotions in each theme. There are are several fun puzzles scattered throughout the book that engaged the older kids and keep them thinking about the lessons they have been reading about. Wandering Wooton shows up on devotions to share his opinions and experiences, and my kids really enjoyed hearing what he had to say. There are daily challenges and memory verses to help kids focus throughout the day on God's

Word.
My kids are 4, 8 and 11 and all 3 enjoyed listening, or reading, several of the devotions together. , and my son and older daughter especially love

the puzzles.
My kids and I think that 90 Devotions for Kids from Adventures in Odyssey and Focus on the Family is a great book for parents who want to give

their kids a little something new and different during family or individual devotions.

I received one or more books or products in the post above for review purposes only. I was in no way required to write a positive review. All my reviews are my honest and personal opinion
. If you have any questions or comments, please see my FTC disclosure or Review Policy.