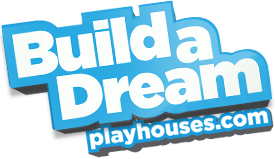 About thei

r

Pr

oducts
The cardboard box has been an outlet for children's creativity for years. We have yet to find an adult that cannot recollect a childhood memory of playing in a box. From traveling through time, to flying through space, to sailing the open seas, a child's imagination allows a cardboard box to transcend all that is material. THAT is the essence of Build a Dream Playhouses.™
We believe that imaginative play is absolutely critical to the developing minds of children. That is why we created a line of products centered on creativity and imagination. We supply the blank canvas for children to paint their dreams. It is truly amazing to continuously see our products transform into unique, one-of-a-kind playhouses.
Cardboard allows our products to be colored, painted, decorated, and customized to please every child's dreams. Corrugated cardboard is also extremely durable and safe for children.

My Review
:
Build A Dream Playhouses have several cardboard playsets available for young kids to use their imagination and go on all sorts of adventure right in the safety of their own home. I was allowed to choose one playset for this review. When I went to choose I asked my youngest child what she would pick, and she surprised me by choosing the Pop N' Play Castle. I would have thought she would like the Lemonade Stand or Ice Cream truck since she and her siblings love playing restaurant. Since she is my review helper, we choose the one she picked. So here is our review of the Pop N' Play Castle from Build A Dream Playhouses.
The decorating is not yet complete and my daughters are still enjoying using their creativity to decorate and personalize their castle. They were begging me to open the box from the moment I brought it inside the house.
Once set up, which only took moments, they immediately asked to start coloring with crayons or markers. So we dug out the markers and decided to let Lydia choose the colors and design and Allison can be her design helper. So all the color choices are made by my 4 year old. Together my two girls and I spent about 2 hours coloring, then had to stop because most of our markers were running dry. *I have since went to the store and stocked up on more markers to finish decorating with*
Comes compact in the box - easy to unfold and begin playing right away
I love how it was packed nicely in the box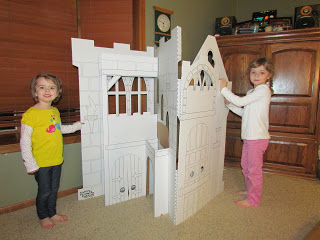 Easy to unfold and begin playing or decorating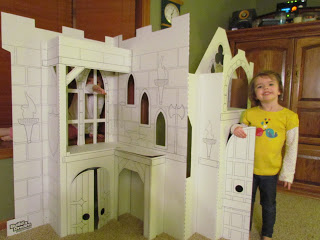 There are three spots where you fold down a portion to secure the castle upright - very easy to do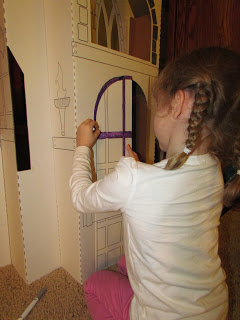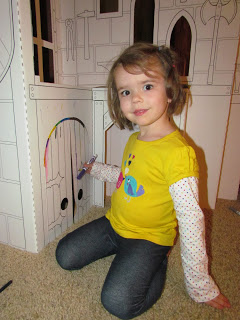 Lydia (on left) and Allison (on right) coloring the castle with markers
Lydia is lead decorator and tells us which colors she wants us to decorate with.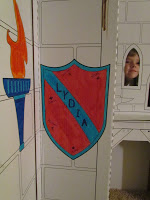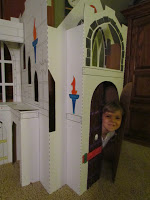 Kids can design their own medieval family crest
I designed this one for my
youngest ~ Lydia
her favorite colors are pink, purple and blue
so I colored the shield pink with light blue trim
and used Purple for her name
then inside the shield are the names of the rest of the family - :)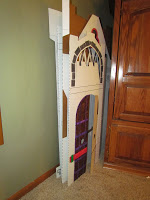 Folds easy to store until the next time their imagination wants to take them to a faraway castle!
We have already had a ton of fun decoration and pretend playing with this Pop N' Play castle, and we've only had it two days. I know we will continue to enjoy it for a long, long time. I think this is a great way for kids to mix their love of crafts, creativity, imagination and play together.
Only negatives I can think of are that when we first set it up, a small area came undone: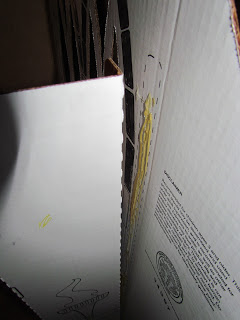 Looks like the glue came loose - we just added duct tape on the inside and it looks perfect again.
I wouldn't recommend that younger kids use it unsupervised since it is made of cardboard. Also, probably not a good idea to let them play rough around it when set up. The only other thing was I thought it would be a bit bigger/taller. My youngest is 4 1/2 and cannot stand up to go through the doorway - she has to crawl like her bigger siblings. But it does not take away from her enjoyment at all, in fact she and her bigger sister (8 yrs old) both said it was more fun to crawl though the doorway.

*Look for the Build A Dream Playhouse Giveaway which starts on Nov 12th here on Loves 2 Read*

I received one or more books or products in the post above for review purposes only. I was in no way required to write a positive review. All my reviews are my honest and personal opinion
. If you have any questions or comments, please see my FTC disclosure or Review Policy.