To kick off my new Outdoor Adventures segment of my blog, I'd love to introduce you to the newest member of my family ~ Dancing Daisy Mae
Daisy joined our family a year ago this past August. She is an adorable Chocolate with Chocolate Speckle German Shorthair Pointer.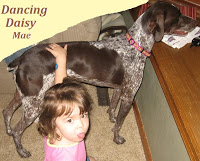 ~~~***~~~***~~~
A Little About German Shorthair Pointers
:
The German Shorthaired Pointer is a lean, energetic breed with a short, tight coat. Bred to be a hunting dog, this pointer also makes a great companion for a family.

This breed has a friendly look and expression, appearing to enjoy being around people. In fact, the German Shorthaired Pointer is affectionate with a playful nature when away from the field and competition.
The German Shorthaired Pointer is an intelligent breed eager to please if given positive reinforcement and praise for good behavior. Additionally, the breed makes an excellent companion but typically, does not do well when left along for long periods. Rated as one of the most popular hunting dogs in the U.S., this breed has a great nose for finding game in the field, showing a tremendous amount of desire when asked to accompany a hunter.
**When Daisy first arrived in our home, she was shy and quiet. She loved being wherever I was, and was not happy if I was out of her sight. But, once my husband took her hunting for the first time, her true personality emerged. She is mostly quiet and well-behaved at home, but as soon as she hears my husband's truck arrive home, she is energetic, and noisy - greeting him with a sort of whiny bark. She jumps and greets him at the door and loves to run around excited. She usually settles back down quickly - but is very expectant any time he heads towards the door. She expects him to take her to the local dog park to run, or out hunting - her two favorite things to do.
She is gentle and very tolerant with the kids, though she can get a bit rough if they play tug with her toys. She loves to lay outside in the sun and rest. This is the first dog our family has had, and she is a joy. I plan to post occasional photos of her out hunting - if I can get hubby to take them for me.
~~**~~ Any outdoor lovers who have hunting dogs, or hunting husbands/fathers/sons feel free to leave me some comments on your favorite hunting memories!
~~~***~~~***~~~
I was encouraged me to add more variety to my blog, so I thought it would be fun to add an Outdoor Adventures segment at least twice a month for those who like to travel, hunt, fish, hike, or just enjoy the outdoors.
I will be adding fun photos, hunting tidbits, animal interest and anything else I think of or any of my readers request.
Have a great place to take your family for a fun outdoor adventure? Ideas for healthy travel snacks or games? Fun ideas about things to do during rainy days or winter cold? Comment below and I may add it to one of my feature posts!
Have an upcoming family trip and want some travel advice? coupons for the area? or questions about best places to site see along the way? comment here or email me!

I received one or more books or products in the post above for review purposes only. I was in no way required to write a positive review. All my reviews are my honest and personal opinion
. If you have any questions or comments, please see my FTC disclosure or Review Policy.