SPONTUNEOUS® (pronounced - spon-TUNE-ee-us)
Have you ever heard a word that "triggered" you to sing a song?

If so, then YOU are Spontuneous!

One player says a word and the race is on for the others to sing a song containing that word. Don't worry though, talent is NOT required!
Spontuneous is America's Hottest New Party Game!

If you're looking for a hilarious game to entertain your family and friends, then it's time to throw a Spontuneous Party!

It's fun, fast paced, full of laughs and a perfect game to spice up your next get-together!
It's really this simple:

One player (Tunesmith) says a word and the others race against each other and the clock to try and blurt out a 5-word portion of lyrics from any song containing the given Trigger-Word!

The player who begins singing first, gets to roll the dice and advance around the board!

If nobody can sing a song, the Tunesmith must be able to back it up with a song of their own, or else they roll both dice and move backwards.

As players advance around the board, certain spaces will require them to draw a Spontuneous Card and attempt the crazy challenge!

Whoever reaches finish first and completes the final challenge, wins the game!
My Review :
What a fun game! It takes quick thinking and explosive laughter to play this fun family game. My son is 11 and thought it was fun, but my two younger kids did not like it as much - being only 4 and 8 they could not think of many song lyrics to go with the words, especially when my son started adding tricky words. The game can be slowed down a bit for younger kids, but I think is best for older kids and adults.
Spontaneous is a hillarious game that uses word association to promote memory recall, strategy and fast thinking. Playing with friends and family gives hours of great social interaction, entertainment and draws people closer together with timeless fun.
I can see this game being a big hit for game night with friends, or even New Years Eve type parties! I like the idea of splitting into groups to play. I think it makes it more fun! A great new game that my family will continue to enjoy playing over and over! It never gets old! Anyone can play no matter what their music preference or lace of singing skills - talent not required!
Spontaneous has won great awards including: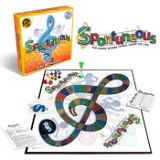 ·
2012 -

The National Parenting Council Seal of Approval (TNPC)
·
2012 -

PAL Award - Play Advances Language (awarded by a speech pathologist of 35 years)
·
2012 - PTPA Seal of Approval - Parent Tested Parent Approved
Check out Spontuneous Using these Links:



THE GIVEAWAY!
giveaway will run 11/29 - 12/7 US only please.


a Rafflecopter giveaway

I received one or more books or products in the post above for review purposes only. I was in no way required to write a positive review. All my reviews are my honest and personal opinion
. If you have any questions or comments, please see my FTC disclosure or Review Policy.